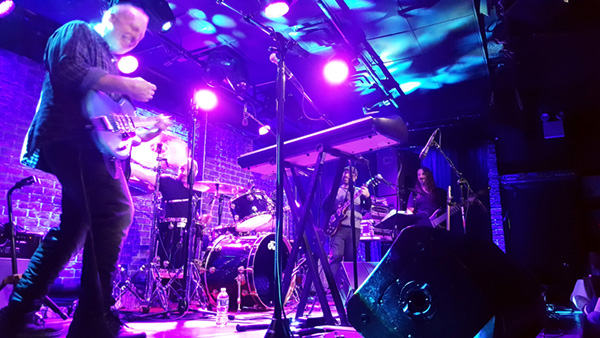 Greetings! (That's a royal word for "hello")
RECENT OCCURRENCES
I hope you've all been copacetic or better. I had a great and crazy tour with BFD last month – wildly fun shows, beautiful audiences, cancelled flights, emergency van rentals and vast quantities of friendship on display. My favorite shows were the two Iridium gigs where Rick Musallam was able to join us – see photographic evidence herein. We're working on putting together a west coast BFD run with the Travis Larson Band later this year, about which I shall inform thee when I have information to inform thee withupon.
Also last month I whooshed up to Vancouver, BC for a few days to work on some new music with Devin Townsend. It was just the two of us in his studio writing and recording stuff. It's sounding fascinating thus far, and we're both looking forward to continuing the process when schedules allow – the music is very varied and we're eager to continue discovering what exactly we're creating here.
GIGS AND WHISPERS OF GIGS
You know what's coming up? Some gigs! Here's them.
On June 4 and 6 there are a couple of Extreme Cream shows with Kofi Baker and Rob Pagliari.
June 4 – Extreme Cream at Brick By Brick, San Diego
June 6 – Extreme Cream at the Baked Potato, LA
Playing with us at Brick by Brick is instrumental progressive band Pet Shark, and their cellist Lindsay Jagich will join us on one of my favorite Jack Bruce pieces, "As You Said" from Wheels Of Fire. Cream themselves never played this piece live – I am really excited about playing it! I love it a lot.
On June 22 I'll be doing a clinic at Murrieta Arts Studios in Murrieta, CA. I've not been to this place yet, but Pete Griffin did a clinic there not so long ago and he told me this place is happening. So this will be a new experience for me and I am very much looking forward to it, like a baby fish looks forward to Infinite Day.
June 22 – MK guitar clinic at Murrieta Arts Studios
Starting in mid-July I'll be doing various things in Europe – for one thing, a trio gig with Stu Hamm and Chad Wackerman somewhere in Europe (the precise location and date are being kept a secret from the public for a few more weeks. Exciting!) where we'll be playing Stu's stuff, a little of mine, some Zappa, Satriani, Vai, Holdsworth – a cornucopia of wonderments.
Then I'll be out and about in Germany and Italy for a couple of weeks with comrades Jaan Wessman and Schroeder – those details are still being sealed in wax and will be presented with love to you quite soon.
There's going to be a gig somewhere in South America with some fine musicians we all know quite well which I see has not been announced online yet, so I'll keep my trap shut on that.
As indicated above, west coast BFD August action is in the planning stages. There's also some Extreme Cream touring in the blueprint stage for sometime around September/October.
Late October I'll be returning, with relish, to Progtoberfest III at Reggie's in Chicago. Last year was a hoooot and I look forward to further hooting. I'll be doing a set with BFD, and another set sitting in with the Don and Bunk Show (Don Preston and Bunk Gardner – freakin' legends), along with several other wonderful people, the also legendary Ike Willis and Nick D'Virgilio.
Progtoberfest III at Reggie's, Chicago Oct 20-22
Oct. 21 – Mike Keneally & Beer For Dolphins
Oct. 22 – MK guesting with the Don and Bunk Show
Other acts at Progtoberfest III include Martin Barre, Alphonso Johnson, The Tangent, Karmakanic, Necromonkey, Cast, Aisle, Bruce Soord, Dave Kerzner, District 97, Thank you Scientist, Discipline, Frogg Café, Randy McStine and many others – it's going to be a severely action-packed three days in a great venue. Definitely worth your time!
VIDEO ACTIVITIES
I shall leave you with a couple of new videos of songs from Scambot 2 that I played for EMG pickups in their video studio up there last October, which I hope you enjoy the bejeezus out of –
Here's Roots Twist:
And here's In The Trees Part One:
GRATITUDE
Many thanks, my friends!
Unquestionably,
Mike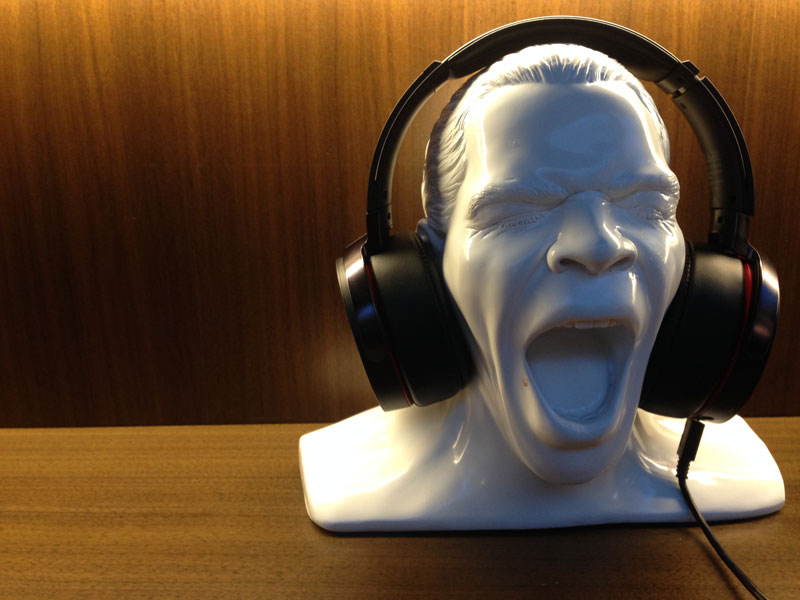 Hey everyone! Happy near-the-end-of-March to you.
Just returned from Larvik, Norway from a sold-out night at the Guitar Festival there. Great hang, great crowd and great times playing my songs with Are Gogstad and Rune Pederson (bass and drums), and jamming on Chicago and Hendrix tunes with Paul Gilbert and other pals. Thanks to everyone at the Festival, especially Anders, for bringing me over. So much fun!
More fun a-comin': at the end of this week I'm taking Beer For Dolphins out for a few shows on the east coast, and one in Texas. These are trio shows with Bryan Beller and Joe Travers, except for The Iridium in NYC where Rick Musallam will be joining us.
Excitement! Multiple notes! We are so jazzed to be playing these shows! I've spiked the setlist with some pretty old songs that haven't been played in a darn long time – at least one hasn't been played live since Drop Control were still together.
Info right 'chere:
FRIDAY MARCH 31
Kennett Flash
102 Sycamore Alley
Kennett Square, PA 19348
$25
Doors 7pm Showtime 8pm
SATURDAY APRIL 1
New Jersey Proghouse @ Roxy & Duke's
745 Bound Brook Rd.
Dunellen, NJ 08812
$25
Matinee!! Doors 1:30pm Showtime 2pm
Special opening act: Teddy Kumpel LOOPestra (with Bryan Beller on bass!)
SUNDAY APRIL 2 and MONDAY APRIL 3
The Iridium
1650 Broadway
New York, NY 10019
$27.50
2 sets each night:
Iridium NYC April 2 – 8:30 show
Iridium NYC April 2 – 10:30 show
Iridium NYC April 3 – 8:30 show
Iridium NYC April 3 – 10:30 show
WEDNESDAY APRIL 5
The Falcon
1348 Rte. 9W
Marlboro, NY 12542
$20 minimum suggested donation
Doors 5:30pm Showtime 9:00pm
(Say…we are looking for two able-bodied humans to help with load-in and load-out at the Falcon gig. Two free tickets, some earnest socializing and a lifetime of memories await you. Please get in touch with Julie Cord at mkeneally@bluemouthpromo.com if you're interested. Thanks!)
SUNDAY APRIL 9 (rescheduled from April 7)
The Guitar Sanctuary
6633 Virginia Parkway
McKinney, TX 75071
Doors 7:00pm Show 8:00pm
Check out the merch stand at these shows: in addition to a bustling selection of CDs, I'll be auctioning off a couple of original drawings at each gig. Enhance your art collection and help pay for our hotel rooms at the same time. Win win!
Thank you everyone! May your next lunch be fantastic!
Yours truly,
Mike
---
Scambot 2 Factoids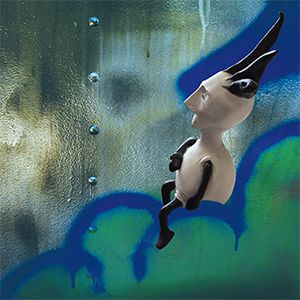 We're shipping the 2-CD Scambot 2 signed and numbered limited edition of 2000. The double-CD set consists of the Scambot 2 album (65 minutes of music) and the Inkling album (48 minutes of music) in a colorful digi-pak, with two handsome booklets nestled within. You'll get an immediate download of Scambot 2 as soon as you pre-order. (You'll have to wait until your CD set arrives to hear Inkling, which, by the way, features the brilliant RICK MUSALLAM on the song "Cram"!!)
Scambot 2 itself is also available as a single-album paid download. (Inkling won't be available as a download – it's only available as part of the 2-CD set.)
---
1. In The Trees (10:28)
2. Roots Twist (3:02)
3. Sam (3:20)
4. Clipper (4:36)
5. Forget About It (0:46)
6. Pretzels (4:25)
7. Buzz (4:32)
8. Race The Stars (3:44)
9. O (1:26)
10. Roll (6:23)
11. Constructed (3:46)
12. Freezer Burn (5:23)
13. Scores of People (5:22)
14. Cold Hands Gnat (4:00)
15. Proceed (3:19)
---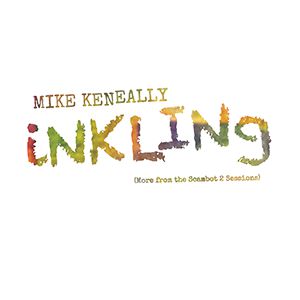 INKLING (More from the Scambot 2 Sessions)
1. Presence (0:48)
2. Scambot (2:17)
3. Boghe (4:01)
4. Sickness (2:01)
5. The Coma (2:11)
6. I Named You (0:45)
7. Falafel (1:29)
8. O Elastic Love! (1:23)
9. Cram (8:10)
10. Mystery Song (0:04)
11. E (0:37)
12. The Scorpions (5:32)
13. Skating Backwards (2:15)
14. Tom (7:01)
15. Mayday! (1:25)
16. Lovesong (1:27)
17. Back It Up (2:54)
18. Inkling (1:37)
19. Uncompressed Rag (2:04)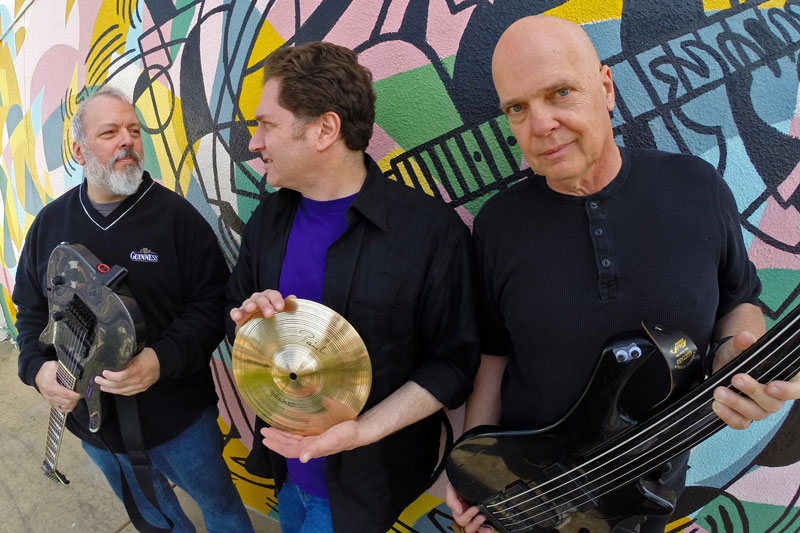 Doug Lunn set me free in 1992.
I thought I knew how to do jazz-inspired improvisation in a rock context prior to then, but it was only when I placed myself in his guiding hands (in tandem with Toss Panos) that the horizon began to reveal itself.
I was honored to have Doug and Toss play on my debut album hat. in 1992, along with a number of other wonderful players. When I decided to take to the stage in support of that album, Doug and Toss were the people I chose to use, and in rehearsals in Toss' backyard studio I saw how my songs as recorded were actually just blueprints – in their expert hands it was revealed to me just how far into the stratosphere these strange little songs could be piloted.
I had done some jamming out with my own bands in the eighties, and been involved with some pretty crazy free improv episodes during Zappa '88, but when I got in a rehearsal room with Doug and Toss there was a palpable sensation of new ground being broken in practically every song I played with them.
Toss played with time in the most engaging way imaginable and made me feel that all rhythmic possibilities were valid. But it was Doug's fearless harmonic underpinnings that opened my eyes, ears and sensibilities wider than I'd ever thought possible.
This song demonstrates to me what Doug's brilliance afforded my music: Backstage With Wilson Philips
This is actually the improv section from an alternate version of "We're Rockin' All Night With The Tangy Flavor Of Cheddar." It delighted me to the extent that I edited it out and turned it into its own track. It's like one long bar that shifts, stretches, contracts and congeals, then breaks down and rebuilds itself. Doug and Toss are in charge of constructing the skeleton and I'm left free to explore any avenue I desire on its bones, with utter confidence that they will not let me fall. I'm so grateful for this song because I think, more than any other single recorded example, it brings back to me the way it felt to play with these two gentlemen and have musical mysteries revealed, peeled back and solved simply by way of their example.
We did some unbelievable gigs right off the bat. The full video concert on the DVD that comes with the 2007 hat. Special Edition reissue will give you some indication.
On Dust Speck we had a little more time in the studio to experiment and I was delighted to utilize Doug more extensively in the orchestrations. He told me about the Mick Karn approach to bass recording: double-tracking the bass part with one fretless bass and one fretted bass. His work on the song Blameless is just so beautiful.
This was the song where a part of one of the bass tracks – just a couple of bars – was accidentally erased, and Doug made the drive from LA to San Diego without hesitation to fix it. This was back in the firmly analog days – there was no feasible way to patch in his part from another section of the performance, it had to be replayed. This act of unquestioning generosity is entirely indicative of what sort of a person Doug was. He contained such reservoirs of selflessness and giving. It's humbling even to be inspired by him.
(It was also Doug who instantly noticed during those sessions, after Toss asked the immortal question "do we need beer for 'Dolphins'?" [meaning, did we need to procure and consume some inspiring beverages before attempting a take on the song "Them Dolphins Is Smart"], that the initials for the phrase "Beer For Dolphins" were BFD. I decided at that instant that it needed to be my band's name. That never would have occurred to me without Doug's insight, which was always instantaneous and acute.)
(And I'm further reminded of other Lunn-ian inspirations that continued to yield fruit for quite literally decades to come. The weird little piece at the beginning of hat., "Your Quimby Dollars At Work" – that was never meant to be more than a little cameo, an opening gesture, not really a composition of any great import, but during a lengthy Shankar soundcheck while Doug, Toss and I were standing around for hours waiting for something to happen, Doug suggested taking that theme and slowing it wayyyyyy down. This extended variation on the theme ended up as the opening piece at countless BFD and MKB shows since, and always proved to be a great entryway into a gig, a way of blowing off the events of the day and venturing resolutely into the sacred head- and heart-space of live performance.)
Doug was a master. Not only as a bassist, although his voice on that instrument was unparalleled – he could throw down brilliantly on drums and piano and more besides, and had a compositional sense that was so confident and cool and surprising and breathtaking. Actually he was one of the best and sophisticated composers I ever had the honor to meet. I hope that more people will discover his Doug Lunn Project album. It is a tour de force.
Here's a live arrangement of one of that album's songs done at a recent Keneally/Bendian/Lunn gig: Dyslexia Mango Nixon.
Doug and I could talk for ages about Miles, Coltrane, Monk – he knew everything about this music that there was to know, and I learned so much from these discussions. It was a privilege to place myself under his tutelage – I somehow felt that he had a direct line to the source of this music. I have an especially fond memory of having played Coltrane's "Crescent" at the Baked Potato, with Doug, Rick Musallam and Chad Wackerman. I only wish that we'd been able to do more gigs with that lineup!
In recent years it was a pleasure and an honor to work with him a lot more often, often in partnership with our brilliant friend Gregg Bendian. Here is a little segment from an idyllic afternoon spent practicing in Scott Chatfield's living room: Out On The Tiles.
In addition to the challenging and adventurous Keneally Bendian Lunn gigs we undertook, I was delighted to work with Doug and Gregg on Scambot 2. What a fantastic thing to record with Doug on an album of mine again, nearly twenty years after our last studio work on Dust Speck. He and Gregg did genius work on two of the stranger, more intricate pieces on the album ("Pretzels" and "Clipper"), but my favorite Doug moment on SB2 is his execution of some very simple lines on the latter half of "Scores Of People."
That flowing bass tone starting at 3:27 – double-tracked in the classic Karn style – feels like a river of stars to me.
Doug was a beautiful, honorable, elegant, smart, brilliantly funny, just-cynical-enough and eminently wise man. I ache for his loved ones in the wake of his passing. I am grateful he no longer suffers. I love him so much.
–Mike