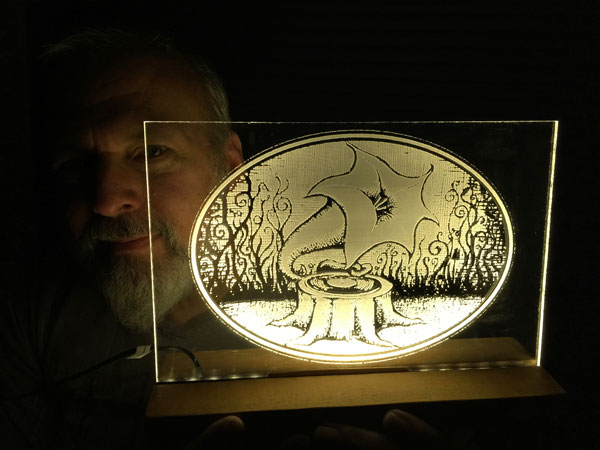 Just in time for Thanksgiving, 21st-century craftsman and serious Keneally fan David Floyd gifted Mike with a unique rendition of Atticus Wolrab's Flower Gramophone logo from Mike's mostly acoustic Wooden Smoke album. It's an illuminated laser engraving on acrylic, mounted on wood, and it stuns. If you'd like to ask David about something in a similar vein, you can say hi to him at brightlivelihood@gmail.com.
---
Happy holidays everyone! Ho! Ho, ho!
I'm back from all the Satriani touring – the Unstoppable Momentum tour dates stretched out, on and off, over 18 months, 143 dates in a bunch of countries and it was an extraordinarily enjoyable time – I hope you got to see one of the shows, 'cause I didn't get to see any of them. Now I'm home and grateful, and also back at work on Scambot 2 which is shaping up to be as crazy and epic as you might expect. Right now we're getting the place ready for Thanksgiving but I needed to tell you about some stuff.
The stuff is these:
KENEALLY STORE HOLIDAY SALE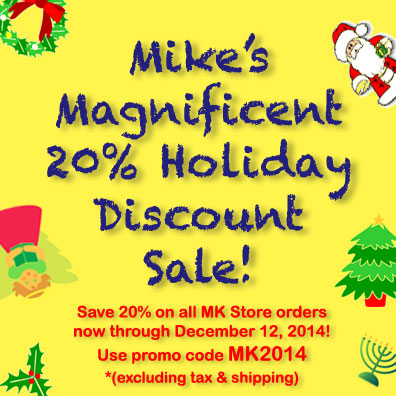 The Keneally Store has got a holiday sale for all your gift-giving needs! From now until December 12, all merchandise is 20% off if you use the promo code MK2014. All of it! Your wishes are coming true already! Ho! (Ho.) Ho!
NIGHT GALLERY GIG
On December 11 there's going to be a special show at the Baked Potato in LA – it's the debut performance by Night Gallery, a group consisting of Joe Travers on drums, Marc Bonilla on guitar and vocals (I was a member of Marc's band in the early 90s), Jonathan Sindelman on keys, Bryan Beller and Travis Davis trading off on bass, and myself on keys, guitar and vocals. We're playing a bunch of the stuff that we all grew up loving – "Tarkus" by ELP, "Utopia Theme" by Todd Rundgren's Utopia, and a medley of some of our favorite Chicago tunes, along with a selection of Marc's and my originals. This is such an unusual project and a real labor of love. I asked Joe and Marc if they had something they'd like to say about what the show means to them, so that I could share it with you Keneallist readers – here's what they had to say: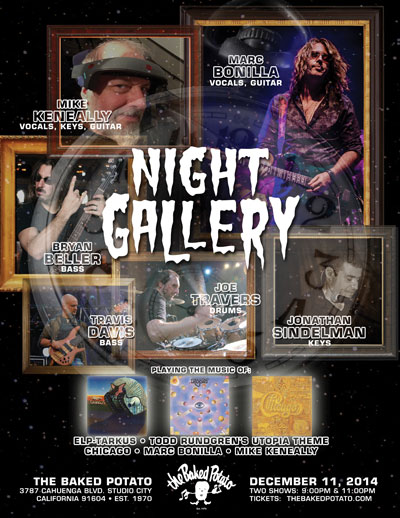 "When I released EE Ticket and American Matador at the beginning of the '90s, I had the incredible luck of happening upon Mike Keneally and Joe Travers. They brought with them their own brand of musical expertise and corroded sense of humor, which was invaluable to me as much then as it is now. After a good long 20 years and change, to get back up on stage with these gentlemen is a thrill long overdue…and playing some of the music that made us who we are today. Broke. But seriously, folks, with any successful band, it's all about the hang. And this extraordinary league of gentlemen – Mike, Joe, Jonathan, Travis and Bryan are all about the hang. And what contributes to the hang will invariably affect the music we create together. Personally, I can't fucking wait."
– Marc Bonilla
"Life is short.
I had been wanting to do something like this with Mike for a long time now. We had discussed it a few times in passing but during a dinner with Marc & Mike recently, I felt strong about asking them if they would be interested in playing together doing material that we know & love, combined with original material from both of them, just for the hell of it. Bringing together the rhythm sections to participate made total sense. Enter Bryan Beller & Travis Davis of course. We all knew how to play the stuff (well…….most of it anyway). We just needed to find a keyboard player. Welcome Jonathan Sindelman. Good news for us!
Marc & Mike were playing together right around the time I moved to Los Angeles. Their drummer was Toss Panos & thanks to wonderful Toss, I was recommended to Marc's Dragon Choir line-up. Mike had already stopped playing with Marc by that time, but Mike & I were together in Dweezil & Ahmet's band "Z." As life does, everyone goes down their musical journeys and pathways……..causing us all to play with a variety of musicians and gig situations. I'm really grateful that all of the musicians participating in this special event were willing to devote the time and energy to make it happen. We all share these influences, all were inspired at one time or another with the work of ELP, Todd Rundgren, & Chicago. We grew up with these bands and their contributions mean a lot to us. So for the love of the music, & the hang of good friends, we share this with you.
Night Gallery
Rock on"
– Joe Travers
Reading their words is getting me doubly excited for the gig. It's going to be a huge amount of fun. We're doing two shows and I believe the early show is already sold out, so secure your tickets for the late show tout suite, you.
THE RETURN OF BEER FOR DOLPHINS!
I've had a hankering to return to the trio format for live gigs with Bryan Beller and Joe Travers for some time, so in 2015 we're going to be doing some gigs in the US and abroad. The Keneally/Beller/Travers trio did tons of Beer For Dolphins gigs in the '90s. The name Beer For Dolphins has been in retirement for well over a decade now but I had the urge to resurrect it for these trio gigs.
And so shall it be! The return of Mike Keneally and Beer For Dolphins power-trio style kicks off January 21, 2015 at the Baked Potato. This will be NAMM week and the place is likely to be packed with scenesters, so get your tickets early, you!
SAN DIEGO TROUBADOR COVER STORY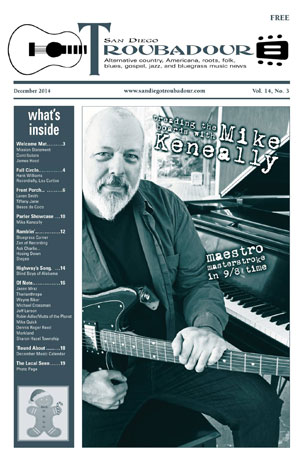 I'm on the cover of the December issue of San Diego Troubadour, a trusted and venerable publication here in SD, and I'm entirely humbled to have been granted this honor. Jon Kanis interviewed me for the piece and it was a very comprehensive interview. I've known Jon forever, and he knows me like the back of his hand so I'm anticipating a pretty thorough article. It'll be online soon, and the version of it that is made out of paper will be in music stores and coffee shops and pizza emporiums and hipster establishments in San Diego any moment now.
ANTAL ADRIAANSE and STUDIO TAL
Antal Adriaanse (we call him Tal) has been a hugely great friend to us for years now, and was the motivating factor behind the keneally.com redesign last year. He is one superb individual. I'd like to encourage anyone who needs some assistance with websites, web shops and social media to visit his site. And tell him Bob Hope sent you, 'cause I think that's funny.
Thank you for reading and please have a severely joyous holiday season!
Ho!
Mike