The last post I wrote in March 2020 was about the first MFTJ album, called MFTJ. How many of you who read that then figured that the next time I posted anything substantial here would be over 14 months later, heralding the second MFTJ album?
Four of you, I believe! Four of you figured that!
In any case, the second MFTJ album, My Mom's Getting A Horse, was released on Bandcamp on January 10 2021. It's the first full album project I worked on using my new pandemic-prompted home-recording set-up (made possible by the generosity of many wonderful friends at GoFundMe).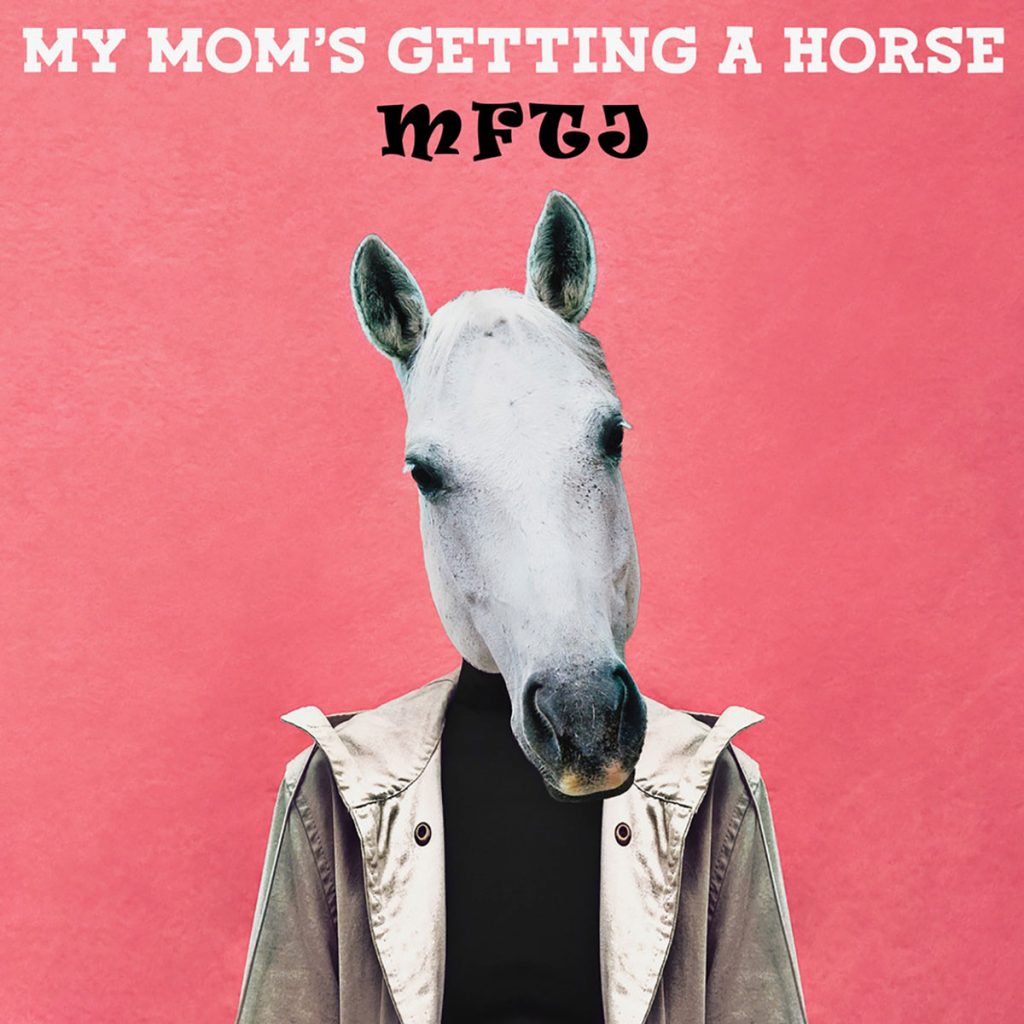 As a reminder of who MFTJ are, and how we do it – the band is the brainchild of producer Scott Schorr. He creates rhythm tracks (using bass, drums, percussion and a variety of electronic programming tactics), I improvise all over them, and he manipulates my improvs and creates highly peculiar compositions with constantly shifting musical colors undulating over propulsive, oddly syncopated beats.
I love this music. Give me this stuff and a set of headphones and I'm a very happy dude. Scott creates wonderful rhythm tracks, and isolates things in my own playing that I would never single out, resulting in a very different use of my musical instincts than I ever do when left to my own devices. When I listen to it, it's a surreal experience – I recognize it as my playing, but I feel like the notes were somehow pulled from my subconscious and arranged without my knowledge. For me it's fascinating and weird; hopefully it's the same for you, albeit in a different way.
Here's the link to find My Mom's Getting A Horse and listen to it and buy it if you like:
https://mftj.bandcamp.com/album/my-moms-getting-a-horse
Here are a couple of conceptual videos for two of the songs, created by Scott Schorr:
"What Wally Thinks":
The title track, "My Mom's Getting A Horse":
Next is a series of making-of videos, with footage of me recording parts, and then talking about those parts after the fact.
"I Remember When Candy Bars Were A Nickel" making-of:
"Shoe Trade Gone Bad" making-of:
An unedited guitar improv from the title track:
"Donner Party Highlights" making-of:
"Who Grooms Your Fur?" making-of:
"Peeping Raccoon" making-of:
"National Milk Day" making-of:
(By the way, major respect to Mr. Schorr for unusual adeptness at creating really weird and entertaining song titles [the names of MFTJ tracks are entirely Scott's domain]).
(When I look at myself talking in these making-of vids, I get strong early-pandemic vibes. I was still highly disoriented (whereas now I think part of me would be weirdly happy to just stay locked up at home forever tinkering in the studio, but, you know, gotta get some sun). I am fiercely grateful to Scott Schorr for giving me this project to work on, to keep myself busy during a time when I was pretty damn confused about the nature of things, and letting me start finding my way technologically around my new recording rig. I wouldn't call myself a technophobe, but I'm pretty close, and this album was a great way to really deal with the process of familiarizing myself with all the stuff at my disposal.)
More related items…
– me doing a long track-by-track dissection of the album at John Wilcox's Progsheet site: http://progsheet1.hypermart.net/mftjhorsetbt2021.html
– an interview about the album with Scott Schorr and me at the Progarchy site: https://progarchy.com/2021/02/02/mftj-my-moms-getting-a-horse/
– At The Barrier interviewing Scott and I: https://atthebarrier.com/2021/02/20/mike-keneally-of-mftj-interview/
– Something Else! interviews Scott without me butting in: https://somethingelsereviews.com/2021/02/11/scott-schorr-mftj-mike-keneally-interview/
– a Proglodytes podcast interviewing us: https://proglodytes.com/2021/02/11/podcast-ep-47-mftj-featuring-mike-keneally-scott-schorr/
And, finally, some reviews of the album:
– Something Else!: https://somethingelsereviews.com/2021/01/24/mftj-mike-keneally-scott-schorr-my-moms-getting-a-horse-2021/
– Exposé: http://www.expose.org/index.php/articles/display/mftj-my-moms-getting-a-horse-3.html
– At The Barrier: https://atthebarrier.com/2021/02/18/mftj-my-moms-getting-a-horse-album-review/
– Progblog: https://www.youtube.com/watch?v=IVLOxWtJNEo
I think this is enough supplemental material for you to make an informed choice about potentially purchasing My Mom's Getting A Horse! Here's that Bandcamp link again:
https://mftj.bandcamp.com/album/my-moms-getting-a-horse