The Zappa Band has a batch of shows coming up…
Including one with Beer For Dolphins
Hey! It's been a little while. What's been up, eh? Here's a brief look back at the last month or so for me: After the ProgJect tour ended in early May, I played on Cruise To The Edge with The Zappa Band and Jakko Jakszyk, got COVID on the boat, came home, had to cancel a Beer For Dolphins gig in Escondido on May 13 'cause of having COVID, got all better in time to play with The Zappa Band at the Rockefellas.live festival in Banning, CA on May 22, Mike Harris just mastered my new album (with Scott Chatfield's and my assistance) two days ago, and now there's all this:
On June 3, The Zappa Band returns to the Whisky-A-Go-Go in remarkable Hollywood, CA. Can't you hear the crashing, blasting strum already? Tickets to this event can be found here.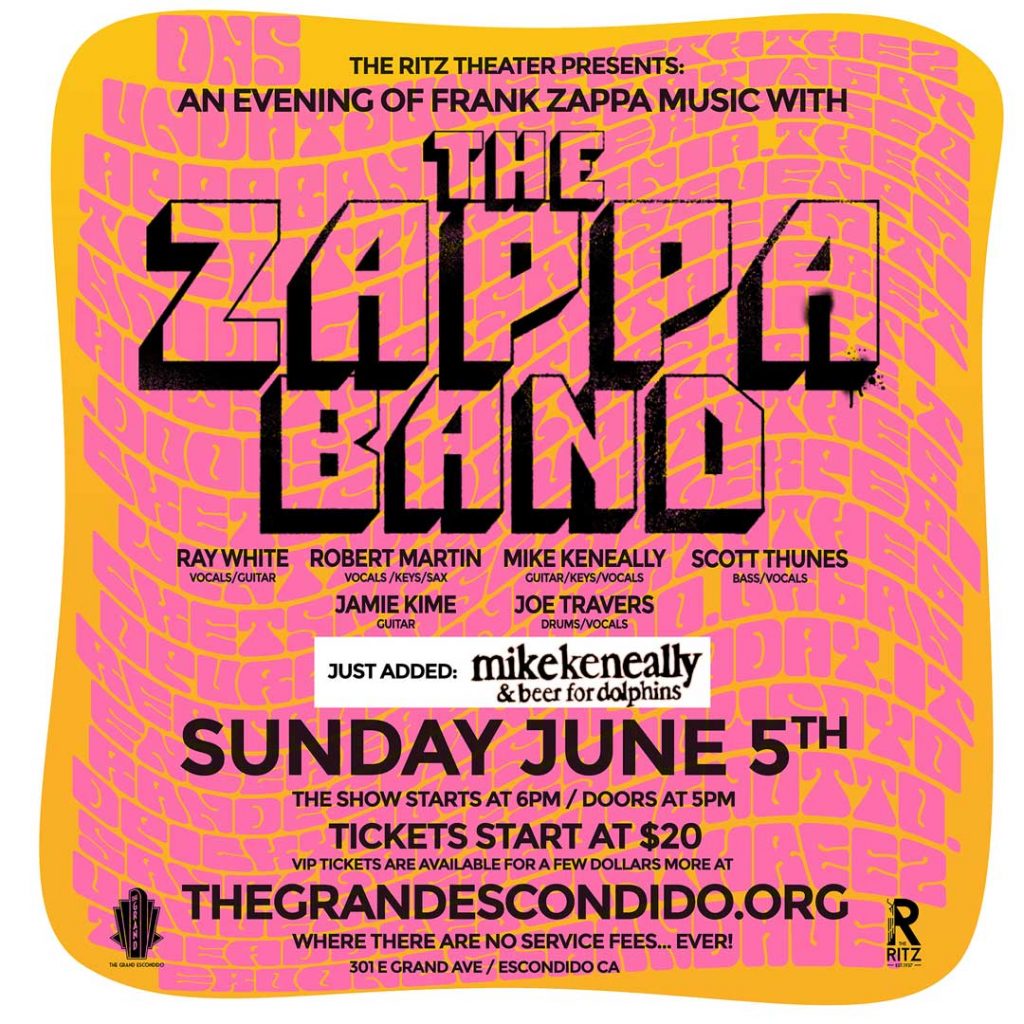 Then on June 5, something highly unusual is happening at the Grand Ritz Theater in Escondido, CA, near my hometown of San Diego. The cancelled Beer For Dolphins gig from May 13 has been rescheduled…as the opening act for The Zappa Band. Joe Travers and I will be giving OUR ALL as members of both bands. BFD will play an hour-long opening set, studded with old faves, and seasoned with two songs from my upcoming album*. And then The Zappa Band will continue the presentation of sonic esoterica for another two colorful, wonderful hours. Three hours of immense density, for an extremely reasonable price.
Tickets to the Escondido show, which has an early start time of 6pm (it's a Sunday), are here.
And separate tickets to the VIP EXPERIENCE, which gains you 3pm access to our soundchecks, and allows you to hurl questions at the stage between songs (we will answer you), can be found here – click the PRODUCTS tab on this page to find the VIP tickets.
Adding extra emotional weight to this San Diego-area show for me is the fact that my wife Sarah and I are preparing to move out of Southern California and go to live in a whole other land. I've been a Southern California boy for 52 years, and 44 of those years have been spent in San Diego county. So this'll be my last local show as a San Diego resident, and I'm playing in both bands to boot – it's likely to be a heavy evening for me, so if you want to come witness some potential blubbering, this will be a good place for you to be.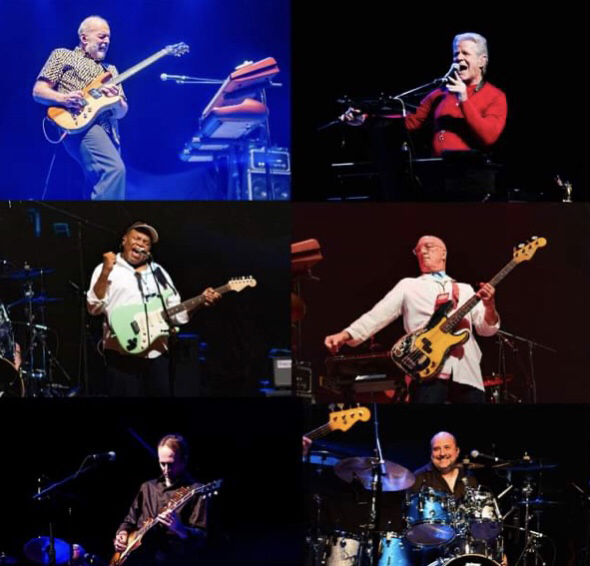 A few days after all that, The Zappa Band tour of the eastern U.S. will commence. Our first-ever headlining tour, and we've got enough material in the hopper to do some decent setlist-altering from night to night, so if you come to multiple shows you will probably see some different songs at each one. All the ticket links to all o' them shows are right here on our very own live dates page.
Gotta get back to prepping for these Cali gigs. All of us in the Zappa Band have to play on different gear than usual at the LA and Escondido gigs because we will have just put all of our regular gear on a truck to be shipped east for the tour, so I have to work out which patches I'm going to use on this here Kurzweil K2vx that my friend Paul Rose has been kind enough to lend me for the SoCal gigs. That was some exclusive, behind-the-scenes scoopery for you right there!
You guys stay awesome and healthy and well, promise? Love you tons, always.
Me (Mike)
*Release date for the new album to be announced, um, pretty soon! We're figuring it out. I'm happy that it's finally mastered, that was a big step!