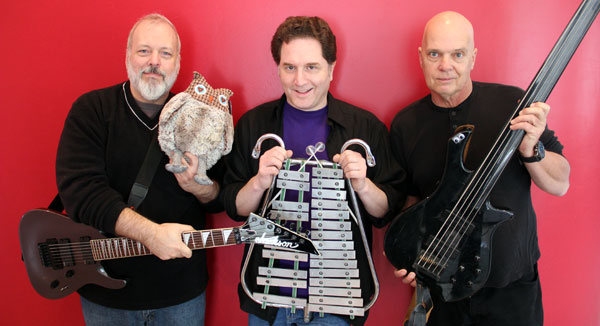 Yo!
We've done five shows on the Keneally-Bendian-Lunn tour so far and things are developing musically in a fascinating way every night. The setlist is being honed and altered each night and it's a challenging, fun ride for us and for the audience. Touching on so many different styles and dynamics, we've put together a song order that has a really satisfying flow. Response has been absolutely fantastic – thank you to all who've been a part of the shows, so far, from the superbly generous and helpful Guest Hosts and Associate GHs, to the venue owners and staff, and of course the audience. This is turning out to be a really enjoyable tour!
Check out the info below for the remaining gigs, and if you're planning to go to any, please consider buying your tickets in advance online (we're hitting up some new venues on this run and it's nice for them to see some decent sales in advance of the show, and helps us in the long run in terms of future touring).
Really looking forward to the rest of these shows. The band are raging every night. Gregg and Doug are killing it and I'm having a fantastic time.
Thanks for being superb!
Yours in perpetuity,
Mike
Keneally-Bendian-Lunn May 2014 U.S. Tour: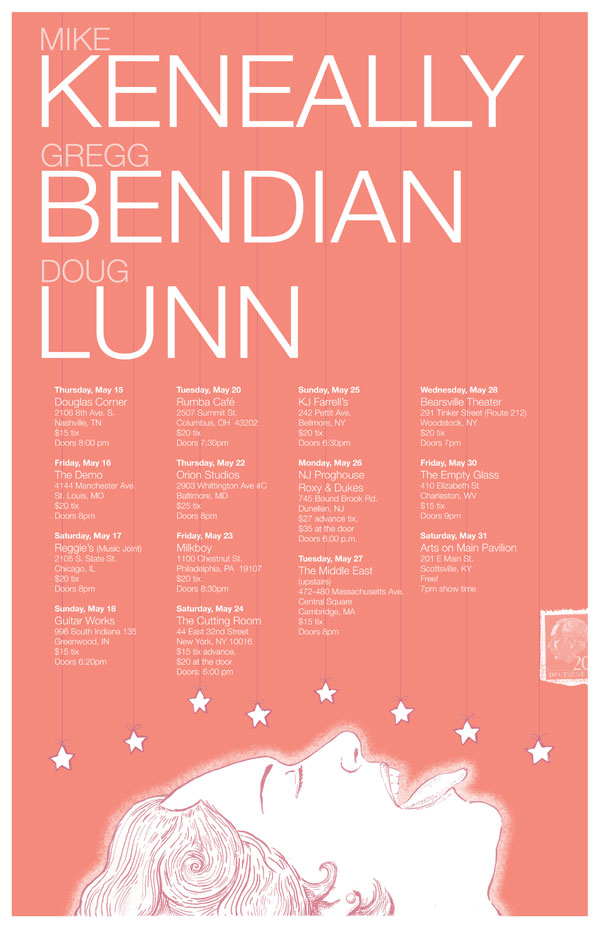 Thursday, May 22
Orion Studios
2903 Whittington Ave #C
Baltimore, MD 21230
410.646.7334
$25 tix
Doors 8pm
Guest Host: J.D. Mack
Friday, May 23
Milkboy
1100 Chestnut St.
Philadelphia, PA 19107
215.925.6455
$20 tix
Doors 8:30pm
Guest Host: George Schueller
Associate: Brian Bernardini
Saturday, May 24
The Cutting Room
44 East 32nd Street
(between Park Ave and Madison Ave)
New York, NY 10016
212.691.1900
$15 tix advance, $20 at the door
Doors: 6pm
Guest Host: David Brady
Sunday, May 25
KJ Farrell's
242 Pettit Ave.
Bellmore, NY 11710
516.804.9925
$20 tix
Doors 6:30pm
Guest Host: Mario Casella
Associate: Cliff Schlesinger
Monday, May 26
NJ Proghouse
Roxy & Dukes
745 Bound Brook Rd.
Dunellen, NJ 08812
862.245.1780
$27 advance tix, $35 at the door
Doors 6pm
Tuesday, May 27
The Middle East (upstairs)
472-480 Massachusetts Ave.
Central Square
Cambridge, MA 02139
617.864.3278
$15 tix
Doors 8pm
Guest Host: Chris Ingalls
Associate: Donato Mastrangelo
Wednesday, May 28
Bearsville Theater
291 Tinker Street (Route 212)
Woodstock, NY 12498
845.679.4406
$20 tix
Doors 7pm
Guest Host: Colin LaMastro
Associate: Kirk McElrath
Friday, May 30
The Empty Glass
410 Elizabeth St.
Charleston, WV 25311
304.345.3914
$15 tix
Doors 9pm
Guest Host: David Roberts
Associate: Ian Beabout
Saturday, May 31
Arts on Main Pavilion
201 E Main St.
Scottsville, KY 42164
270.237.4062
Free!
7pm showtime