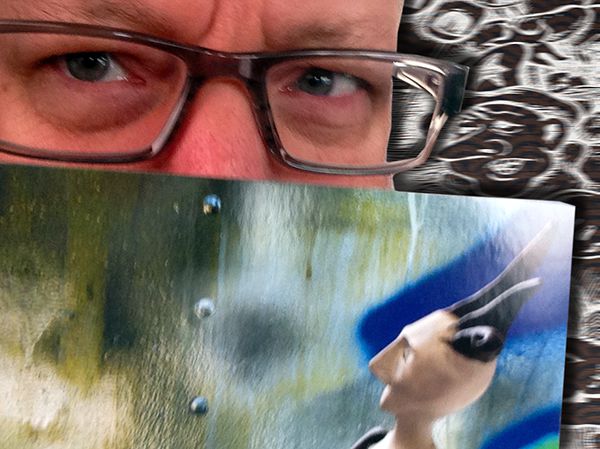 Ladies! Gentlemen! Cats!
I've been getting myself ready for the G4 Experience in Long Island next week. In addition to the classes I'm presenting, I'm playing shows with Joe Satriani, Keneally-Minnemann-Beller, and Steve Vai, so there's a lot to prepare. G4 is sold out, but there's a waitlist you can join in case anyone drops out, so here's the goldurn website.
Scambot 2 is now whirling around the globe to all who pre-ordered; thank you for doing that, those of you who did! The rest of you can now simply order it if you like, never mind the "pre." And for those who prefer the digital route, Scambot 2 is now officially available as a download (and, when ordered directly from the Keneally Store, the full digital booklet is included with purchase). Again as a reminder, the album Inkling is only available with the 2-CD physical edition of Scambot 2. I hope those of you who've received it are as enamored of the album design as I am. Kudos again to Atticus Wolrab – he did truly beautiful work on this album and I am grateful.
And now, I'll dither a bit about the final four songs on Scambot 2 – the eighteen-minute-and-four-second "side four" of the vinyl two-record set which does not yet exist but perhaps will some fine day…
Freezer Burn
The feeling of the beginning of this song was trapped in my head for months before I started recording it. If I knew anything about Scambot 2, I knew it was going to have one song that started with a vibe like a slow early-ish Pink Floyd track, replete with long held organ chords. Didn't know what any of the chords were yet, I just had this vibe in mind for a long time, and in fact I think it intimidated me for a while, enough that I avoided concretely starting the song for quite a while. Finally one day I was in the studio with Mike Harris and had gone as far as I could on the other stuff I had been working on, and he said "what's next?" I knew I couldn't put it off any longer. I decided on a working title (which, of course, stuck) and an opening chord, and made my way from there.
I had also had it in mind that the song was supposed to be seven minutes long, for some obscure numerological reason. On that first day of working on the song with Mike H., we laid down basic ideas for four sections totaling seven minutes.
I wasn't fully satisfied with the fourth section though – it was forced, something to achieve this basically arbitrary length. It was a fine feeling about a year later when I officially shaved off the final section (at one point I'd shaved off the third section [the ultra-spacey bit that starts at 4:17] as well, in a fit of overzealous pruning, until Sarah saw me listening to it in headphones and blissing out heavily and asked me "what the heck are you cutting that section out for? You obviously love it!").
There was also a lot of chatter in my head about whether or not this song should have lyrics. Scambot 2 is obviously a more lyric-oriented album than Scambot 1 was, and I had decided to let the lyrics be more explicit about driving and reflecting the plotline. So I tried a couple of times to begin work on "Freezer Burn" lyrics, and got nowhere with it. Finally one day I imagined a lead guitar in that opening section playing the role of a vocalist – something probably inspired by Satriani. To generate melody ideas I improvised three takes of lead guitar, then carved away until I arrived at a set of melodic statements I enjoyed – then learned those statements, and we recorded a new performance of them as the main lead guitar (you will still hear fragments of the original three improvised takes, dancing around the main guitar).
The second part is obviously Wooden Smoke-influenced, and I was real happy to get some of that flavor into Scambot 2. Part of that texture is due to none other than the much maligned 80s-era digital synth, the Yamaha DX-7. This poor box has been excoriated in the past, but it can really provide an interesting flavor, especially the fake jazz guitar setting which has a real nice pluck and sonorousness to it. (I also used quite a bit of distorted DX-7 on "In The Trees." You can make some really nasty industrial noise with it [just ask Trent Reznor], especially when you decide to pump it through your guitar pedalboard and go nuts.)
I give a special "yo!" to Jeff Berkley – I used his lap steel guitar as a major component of that ultra-spacey third part. I'd never played lap steel before, but it was a simple enough part that it didn't give me conniptions. There's definitely a major Steve Howe influence at play on this last section.
Scores of People
The title and opening lyrics of this song have been around since I was writing lyrics for The Mistakes in 1995, so when I claimed that Scambot 2 has been under construction since the late '90s, I guess I was technically mistaken. But for many years, the song consisted of nothing more than that title and those opening lyrics, and I believed for a long time that I would never go any further with them, that those few components comprised everything intelligent I could say on the subject of abuse of authority.
I did the music for the first part of this song (the lyric part) during the sessions for Scambot 1. I still only had the first few lyrics, but I wrote the music based on what I had, and presumed the rest would come eventually. I finally hit upon a set of lyrics that felt both germane to the plot and also managed to stand on their own. I think they work both as a sincere reflection of ideals I have and as a slightly parodic look at "cause"-oriented popular music.
The second part, the long piano-based instrumental, is a piece I wrote on Fender Rhodes when I was 16 years old. Gregg Bendian and Doug Lunn really shine on this section. I think there are three Bendian performances superimposed in this section; choosing things that he played and mixing them "just so" was seriously fun, completely my idea of a good time in the studio. The brilliance of Mike Harris also comes to the fore here. Hopefully all you headphone people are having a good time with this one.
Cold Hands Gnat
This was actually recorded before the version of "Cold Hands" that was on Scambot 1. I recorded this one at home, except for the acoustic piano which was later overdubbed at Scott's place. It was done as a songwriting demo, but it had a feeling about it that was so different from the version I did for Scambot 1, and I always had love for this version.
I think the gnat voice is endearing, but when Joe Satriani heard it he was terrified by it. You just never know how these things are going to hit people.
Proceed
The band track (me, Musallam, Beller, Travers) was recorded at Tom Trefethen's Remora Recorders studio in 2008 during the same sessions that produced the basic tracks for "Life's Too Small," "Cornbread Crumb," "Popes," "The Scorpions" and "Tiny Red Bug." It was a very productive couple of days. Trefethen (who engineered the early albums of Ambrosia that I love so much) is a pretty legendary figure with very deeply ingrained ideas about how to do things in the studio, and he surely knows how to create a specific vibe – for one thing, he designed his studio to look like a cave, with rough walls resembling rock, and he takes great pains to mic things up according to principles he's held dear since the '70s. We recorded the basic tracks to analog tape, and later brought them into the digital realm for overdubs. I can REALLY hear the benefits of analog recording on all these tracks, especially in the drum sound, which is insanely satisfying to my ears.
Lyrically this song was meant to invoke something of The Who's "Welcome" from Tommy, which was sort of an inside-joke reference to Scambot's status as a "concept album." But after a couple of attempts at writing the lyrics over a period of years, I finally realized exactly what this song should accompany in the story, and the lyrics emerged pretty effortlessly (with special thanks to Sarah for a couple of important suggestions that greatly improved matters).
The song intentionally leaves Scambot 2 on a note of anticipation – it works as a conclusion, I think, but also leaves one hanging slightly (that last chord isn't a resolving chord, exactly). That works for me in two senses: there will be a Scambot 3, so I didn't feel like I needed to wrap things up definitively at the end of Scambot 2; and there's a whole other album (Inkling) in the same physical package as SB2, and I think the end of "Proceed" segues very nicely into the beginning of "Presence" on Inkling.
More about which, soon!
Finally –
Three new concert dates have been added to the Mike Keneally & Beer For Dolphins tour later this year – here's the final itinerary for the tour:
MIKE KENEALLY
as special guest in a tribute to KEITH EMERSON
also featuring JONATHAN SCHANG of District 97
and LUIS NASSER of Sonus Umbra and Might Could
FRIDAY, OCTOBER 21
At Reggie's Progtoberfest II, Chicago IL.
MIKE KENEALLY & BEER FOR DOLPHINS TOUR
trio with BRYAN BELLER and JOE TRAVERS:
opening all the Northeast shows is the TRAVIS LARSON BAND
SATURDAY OCTOBER 22: Reggies's Progtoberfest II in Chicago IL
TUESDAY OCTOBER 25: River Street Jazz Cafe in Plains, PA
WEDNESDAY OCTOBER 26: Iridium in NYC
THURSDAY OCTOBER 27: Jammin' Java in Vienna, VA
FRIDAY OCTOBER 28: Kennett Flash in Kennett Square, PA
SATURDAY OCTOBER 29: NJ Proghouse in Dunellen, NJ
SUNDAY OCTOBER 30: The Wheelhouse in Narragansett, RI
I'm seeing posts online to the extent of "why aren't you playing in ****?" I would love to play EVERYWHERE, but we're doing what we can in the small window of opportunity available around Beller's Aristocrats touring and Satriani band in South America later this year. We'll try to do more next year, I promise.
Time to go to LA and see Radiohead now. Thanks everyone!
Mike!