Happy Tuesday the seventeenth day of the new year!
I got a really amazing Rudolph mask for Christmas – it covers my entire head. What else could I possibly need?
Here are things!:
THE DRAWINGS from the SOUTH AMERICAN TOUR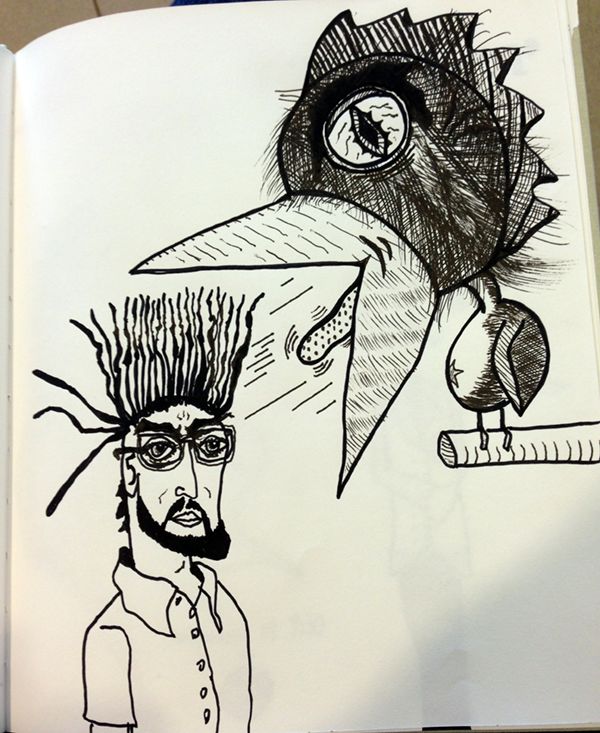 I lob wide swaths of thank yous to everyone who ordered things at The Keneally Store in December, and thus became eligible to receive one of a bunch of pictures I drew during the December South America Satriani tour (such as the one you see here). I will soon place all of your names into the Rudolph head I just got for Christmas, and pull out the names of the winners, and then I'll ship the drawings out next week. Good luck! Good luck, I say!
MK/BFD at X-JAMM in ANAHEIM on JAN. 21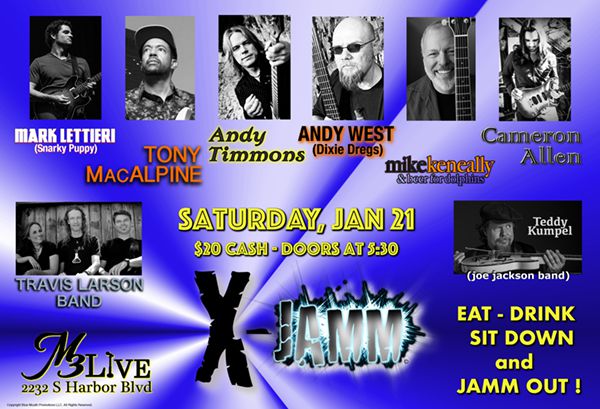 I'm excited as cuss that the Beer For Dolphins quartet is going to play at:
X-JAMM!
presented by Blue Mouth Promotions
M3 Live Anaheim Event Center
2232 S. Harbor Blvd.
Saturday, January 21
5:30 pm
(Right down the street from the NAMM show)
It also features
Tony MacAlpine
Andy Timmons
The Travis Larson Band
Mark Lettieri of Snarky Puppy
Teddy Kumpel
Cameron Allen
In addition, very special guest Andy West will appear (and Andy Timmons, Travis Larson and myself will be playing a venerable Dixie Dregs classic with him).
So come see this! It's 20 bucks at the door – ticket sales begin at the venue at 1pm on the day of the show (no advance tickets). No NAMM badge required to see this show! Just show up!
(If you are attending the convention itself, I'll be signing photos at the KORG booth on Friday, Jan. 20 at 5pm. Jordan Rudess and Billy Sherwood will be there signing photos as well. Three guys, just a-signin' a bunch of photos. Skritch skritch skritch. Or psss psss psss. That's the sound of Sharpies.)
BAKED with BRENDON SMALL and STEVE AGEE
JAN. 28 as part of A NIGHT ON BROADWAY
I haven't done a BAKED show with Brendon and Steve in several small forevers. So color me sizzling with gladness to be doing it again. Joe Travers will drum and Walter Ino will bass, and there will be comedians! Jugglers (not really)! Fire-breathers (not really)!
It's part of an event called A Night On Broadway in downtown LA, wherein all or many of the classic and venerable (yes, I've used the word "venerable" twice so far. Three times now!) theaters of that region are simultaneously occupied by various entertainment people, so as to produce a huge night of ENTERTAINMENT spanning the entire downtown area. Fun! Epic! Venerable! We did it last year and it was "an hoot."
Our venue is the Palace Theatre at 630 S. Broadway. It's beautiful! Look at it! I don't think we know our time slot yet, or how much the tickets are, but here's the link for the whole A Night On Broadway event (http://nightonbroadway.la/ – dead link). Right now that site is a husk, an empty shelf, but the details will presumably be posted there once those details exist.
SATRIANI IN ASIA

The Shockwave continues! Joe Satriani and his band of scoundrels (me, Bryan Beller and Marco Minnemann) will be finishing up our touring in support of the Shockwave Supernova album next month in Asia. We're playing Japan, Korea, Taiwan, China, Thailand and Singapore in a two-week run. All the details are here at Joe's website.
The December South American tour had some of the wildest playing we've ever done, and I'm excited for us to play again. I'm also very glad to be going back to Asia – it's been a long time!
SOME ENTICING ITEMS FROM THE WORLD OF ONLINE
Here're some things that have popped up lately on the web, which is wide as the world:
I did Jude Gold's "No Guitar Is Safe" podcast. (It's episode 36 – click link and scroll down a little bit to find it.) For this podcast, Jude sets up two amp rigs in the interview space so both he and his interviewee can play anytime the muse dictates. So this is nearly two hours of us playing whatever and talking about stuff. Jude is a great guy and this was really freaking fun to do. Thanks Jude for asking me to do it!
Excerpts from this interview with Jude can also be read with your eyes in the February 2017 issue of Guitar Player magazine. On newsstands now!
*
Here's an interview with AXS.com (http://www.axs.com/exclusive-interview-mike-keneally-talks-about-the-making-of-new-album–111370). Thank you to Kevin Wierzbicki for asking me a small but thought-provoking batch of questions that found me in a talkative mood.
*
I recently went to the home of Anthony Garone, who is the lynchpin of Make Weird Music (http://www.makeweirdmusic.com/), which is a website devoted to guess what? You're right! I did a house concert at Anthony's for a bunch of demonstrably wonderful people, with Andy West guesting on bass for 10 of the songs. We had us a time, and I can't thank Anthony enough for inviting us to play.
The following morning Anthony asked me to play through the song "You Must Be This Tall," (http://www.makeweirdmusic.com/share/you-must-be-this-tall) and he made a video of it. Then a few days later a young guitarist named Yvan Cluet did a bitchin' transcription of my performance in the video. Yvan hears "1" in a different place than I do (clue: I hear the very first guitar note as starting on the "3"). Check it out!
Anthony also made a recording of Andy and I having a good time talking about music for about a half hour – there's video, audio and text of this discussion on this page (http://www.makeweirdmusic.com/interview/mike-keneally-andy-west) (thanks to Julie Cord for transcribing this conversation). Many things are discussed: Moby Dick…Mahavishnu…what Crazy Backwards Alphabet were thinking while they were playing…diving deeper into Satriani's music…lots and lots of topics. It's a good time. (I'm real glad that I get to play with Andy in Anaheim next week.)
*
Tabletop Genesis – this is a seriously fun podcast that allowed me to get my Genesis geekdom on in a maximum-power sort of way. During the recent BFD East Coast tour, I talked with Michael Lord and Eli Noetinger for an hour-long episode of their podcast. It's Episode 18 (as of January 13 it's the episode at the top of the page). Yakking on and on about what we love about Genesis = TOO MUCH FLIPPING FUN. I could easily have jabbered for another two hours. Thanks Michael and Eli!
AND NOW I BID YOU ADIEU AND I WOULD ASK ONLY THAT YOU TAKE CARE OF YOURSELF AND BE KIND TO OTHERS AND HAVE A GOOD TIME
See ya!
Love,
Mike
---
Scambot 2 Factoids
We're shipping the 2-CD Scambot 2 signed and numbered limited edition of 2000. The double-CD set consists of the Scambot 2 album (65 minutes of music) and the Inkling album (48 minutes of music) in a colorful digi-pak, with two handsome booklets nestled within. You'll get an immediate download of Scambot 2 as soon as you pre-order. (You'll have to wait until your CD set arrives to hear Inkling, which, by the way, features the brilliant RICK MUSALLAM on the song "Cram"!!)
Scambot 2 itself is also available as a single-album paid download. (Inkling won't be available as a download – it's only available as part of the 2-CD set.)
---
1. In The Trees (10:28)
2. Roots Twist (3:02)
3. Sam (3:20)
4. Clipper (4:36)
5. Forget About It (0:46)
6. Pretzels (4:25)
7. Buzz (4:32)
8. Race The Stars (3:44)
9. O (1:26)
10. Roll (6:23)
11. Constructed (3:46)
12. Freezer Burn (5:23)
13. Scores of People (5:22)
14. Cold Hands Gnat (4:00)
15. Proceed (3:19)
---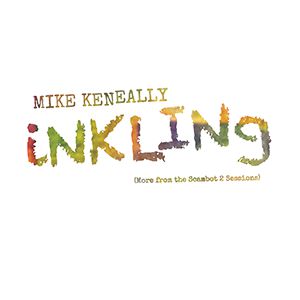 INKLING (More from the Scambot 2 Sessions)
1. Presence (0:48)
2. Scambot (2:17)
3. Boghe (4:01)
4. Sickness (2:01)
5. The Coma (2:11)
6. I Named You (0:45)
7. Falafel (1:29)
8. O Elastic Love! (1:23)
9. Cram (8:10)
10. Mystery Song (0:04)
11. E (0:37)
12. The Scorpions (5:32)
13. Skating Backwards (2:15)
14. Tom (7:01)
15. Mayday! (1:25)
16. Lovesong (1:27)
17. Back It Up (2:54)
18. Inkling (1:37)
19. Uncompressed Rag (2:04)