Yeah, The Zappa Band are going to play seventeen shows with King Crimson in the U.S. in a couple of months from now. Yes I wish we were playing outside the U.S. too! But I'm highly grateful for every gig we're getting. I'm starting to feel severely excited to get out and do some playing. Some aspects of coming out of hiding are unnerving. But getting onstage and playing some music isn't one of those things.
The Zappa Band consists of Scott Thunes, Ray White, Robert Martin, Joe Travers, Jamie Kime, and me.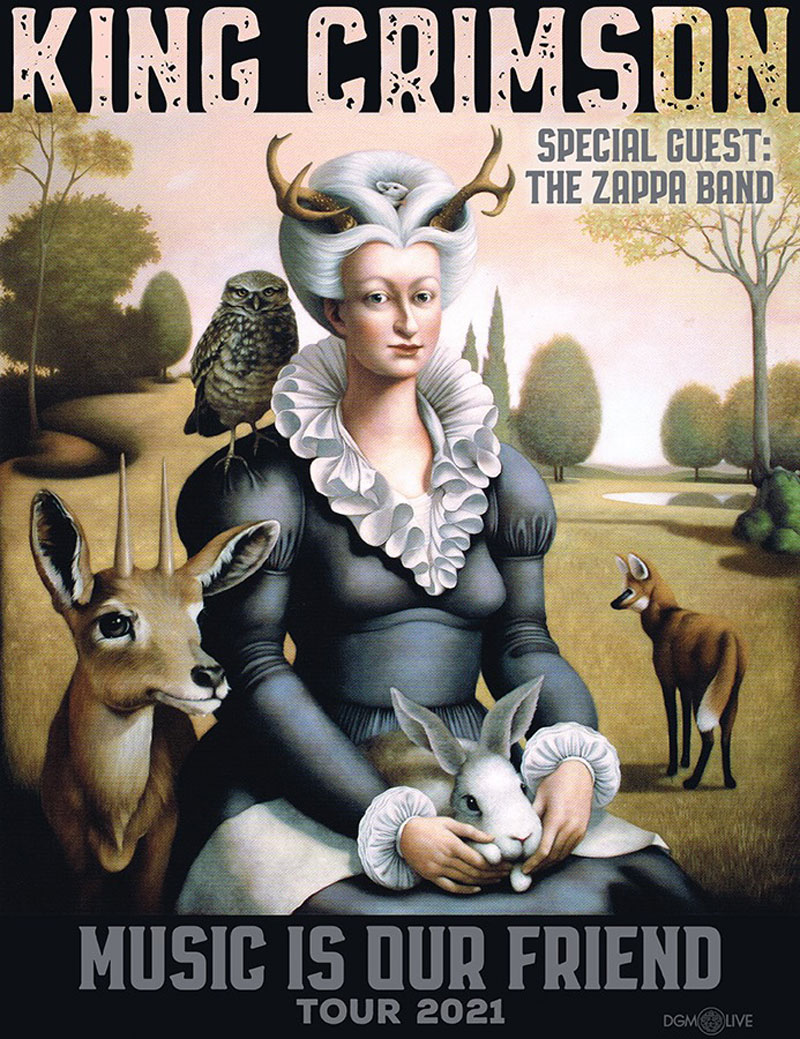 The Crimson band is the same three-drummer, four-non-drummer lineup that's been making glowingly beautiful music live for a few years now. A truly wonderful ensemble.
Together it's going to be a really, really good night of music (yes I treated myself to two "really"s there).
We're not doing ALL of the North American dates that Crimson is playing; for many of the dates, the very marvelous California Guitar Trio will be opening. In San Francisco and LA, all three acts will perform.
These are the shows at which The Zappa Band WILL appear:
August 5, 2021- Concord, CA – Concord Pavilion
August 6, 2021 – Los Angeles – The Greek
August 23, 2021 – Saratoga Springs, NY – SPAC
August 24, 2021 – Northampton, MA – The Pines Theater relocated to Springfield, MA – Symphony Hall
August 26, 2021 – Canandaigua, NY – CMAC
August 27, 2021 – Lewiston, NY – Artpark Ampitheater
August 28, 2021 – Rochester Hills, MI – Meadow Brook Ampitheater
August 29, 2021 – Highland Park, IL – Ravinia
August 31, 2021 – Milwaukee, WI – Miller High Life Theatre
September 1, 2021 – Cleveland, OH – Jacobs Pavilion at Nautica
September 2, 2021 – Huber Heights, OH – Rose Music Center @ The Heights
September 4, 2021 – Holmdel, NJ – PNC Bank Arts Center
September 5, 2021 – New Haven, CT – Westville Music Bowl
September 7, 2021 – Philadelphia, PA – The Mann Center
September 9, 2021 – Forest Hills, NYC – Forest Hills Stadium (cancelled)
September 9, 2021 – New York City, NY – Beacon Theatre (new show – more info here)
September 10, 2021 – Boston, MA – Leader Bank Pavilion
September 11, 2021 – Washington, DC – The Anthem
If you can come, do. Do.
We're preparing a good set of tunes for ya. Some of these tunes will also appear on an upcoming live Frank Zappa release, which is a document of the last show we played on the U.S. leg of the FZ tour in 1988. Significantly for me, the show took place in my home region of Long Island.
Craig Adams and Joe Travers have done a fantastic job with the audio and it stands as my favorite-sounding 1988 Zappa release. The band is ON IT, too…you can hear that we know these tunes cold, having come to the final night of two straight months of gigs in the U.S., but it doesn't sound at all weary or jaded to me – there is a LOT of energy and high spirits and the whole band are seriously on fire. (I even get a guitar solo on "Pound For A Brown"; I think it's the longest one I've ever had on a Zappa release, and shockingly I am not mortified by it.)
You might like to consider pre-ordering ZAPPA '88: THE LAST U.S. SHOW, available in a couple of different excitin' formats (vinyl-lovers rejoice! A 4-record box! Black or purple vinyl!) right here: https://www.zappa.com/news/frank-zappas-final-american-show-be-released-first-time
And here's a preview of "I Ain't Got No Heart" from the live album: