What goes on?
Antal's MK Tour Chronology informs me that it has been precisely five years since The Mike Keneally Report (consisting of Jaan Wessman, Schröeder and yer 'umble narrator) have produced waves of sound for the entertainment of music-enjoying humans, including ourselves. Time to create another round of waves! This time, for the attendees of the venerated Zappanale festival in Bad Doberan, Germany. And, for ourselves. We'll be headlining on the last night of the festival, which is Sunday, July 17.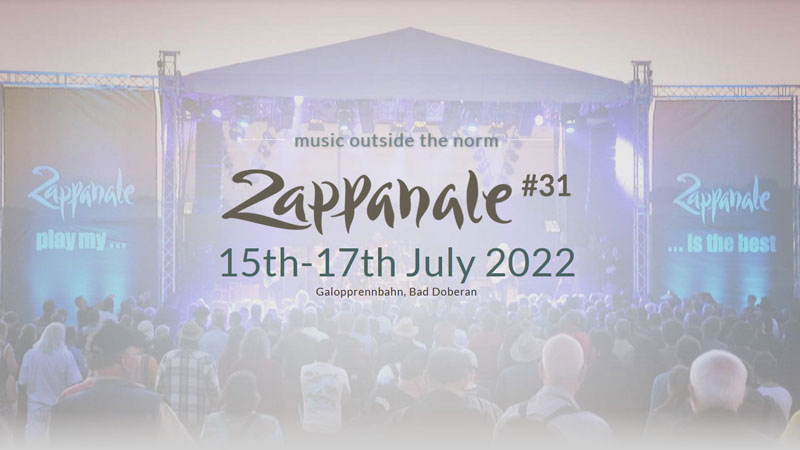 It's been a tidy nineteen years since the last time we played Zappanale. It's a little bit hard to believe that it's been virtually two decades since the last time I attended this shindig, and even though it's a bit of an insane time to be world-traveling right now, I gotta say: I'm excited. I wish we had been able to book another couple of weeks of dates around this one (we tried; didn't happen), but in some ways the fact that it's just the one date makes it that much more special. We have a very fun program of music prepared for you. Mostly my stuff, but also including a few choice FZ nuggets. We got one song from my upcoming album (title and release date to be announced soon). There are a couple of nice special guests planned for you as well. It will be both fun and good. (I'm also grateful that Ahmet and the Zappa Trust are officially cool with the existence of Zappanale in the world. It's nice when people get along.) I love Schröeder and Jaan very, very much and can't wait to rehearse and play with them again.
Please also be aware that on July 14 of the festival, Mikko Keinonen will be presenting the world premiere of The Complete Adventures of the Unrelated Sound Guy, the short film consisting of five songs from my upcoming album. This will be part of the Exhibition at Am Markt 3. I hear it will be taking place "as early as 1pm"; I will still be airborne at that point so sadly I won't be able to join you at the premiere, but I will absolutely be there in spirit and my songs will hopefully fill in for my absence. I'm looking forward to seeing the final product myself – there's a good chance that festival attendees will see it before I do! There's also a good chance that this will be a "work-in-progress" version that will differ in some ways from the final product. So if you want to see this unique rendition of the film, get yourself there if you can.
In another interesting connection to the new album, playing onstage before us on the 17th will be the reconstituted Colosseum, featuring none other than Malcolm Mortimore on drums (who played on Gentle Giant's Three Friends, and also plays on the song "The Carousel Of Progress" which is the closing track on the new album).
Anyway, loads of good times ahead. If you can join us that would be fantastic. Mask up and come on over.
Love,