Happy new year, beautiful people!
I've got a new album coming out in February, and we're going to do some shows to celebrate that.
The album is called The Thing That Knowledge Can't Eat, and I'll be back here soon with some pre-order information about it so you can buy the thing online.
But, if you should happen to be in Southern California for any of the following shows, you can buy the CD at the merch table several weeks before the official release date. Plus you get to see a smokin' Beer For Dolphins show.
Mike Keneally & Beer For Dolphins for the purposes of these January 2023 shows consist of:
Mike Keneally
Rick Musallam
Pete Griffin
Joe Travers
(with a special appearance by Griff Peters at the Escondido gig on Friday the 13th).
Bryan Beller is unavailable to perform for secret reasons. I am immensely grateful that Pete is willing to learn a LOT of hard bass parts in order to make it possible for me to do these shows.
The Escondido show will be the official Album Release Party gig for The Thing That Knowledge Can't Eat. There will be a Q + A period, and I will dance with merry abandon in celebration of the fact that the album is finally coming out!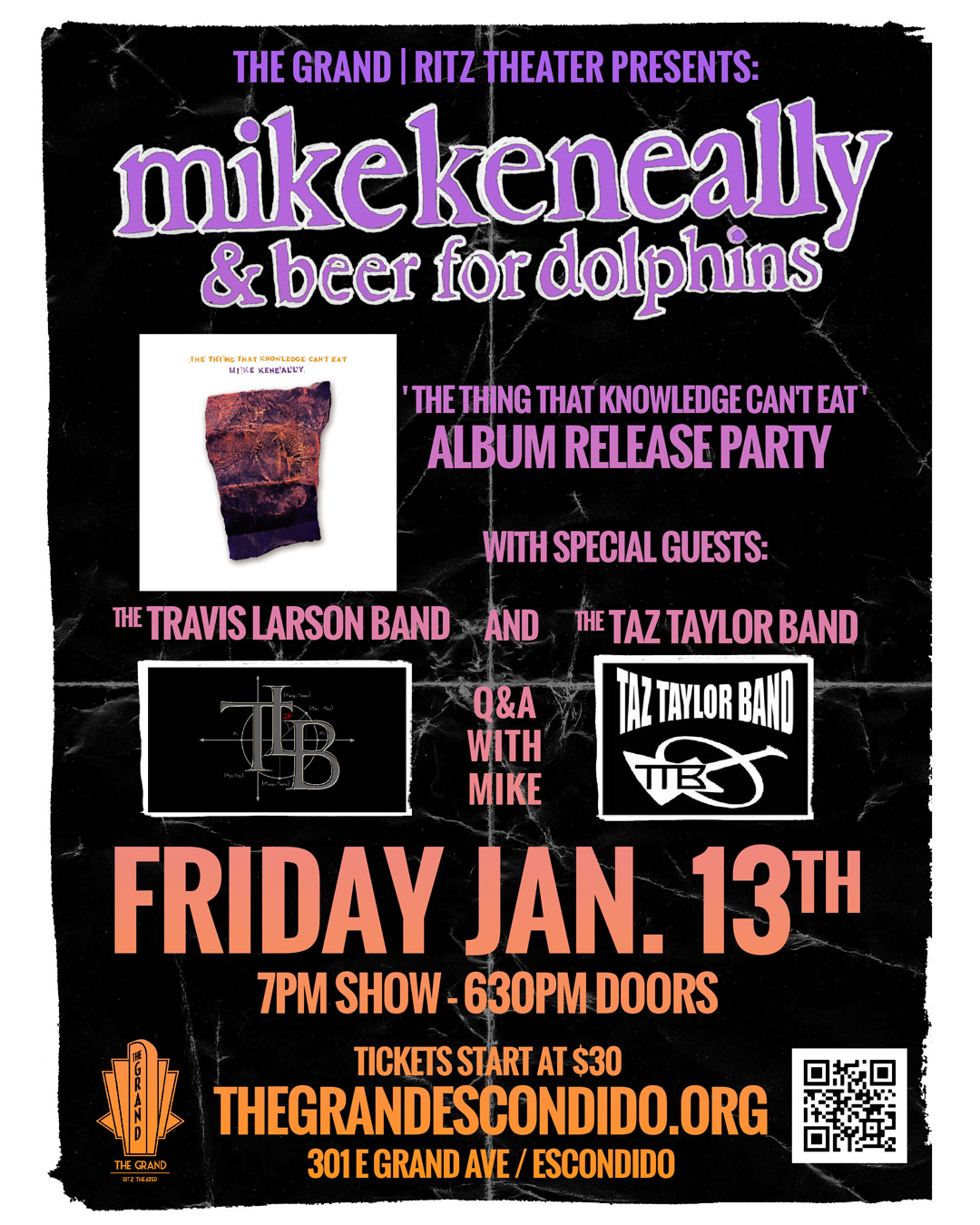 We are playing songs from all twelve of my major albums (hat., Boil That Dust Speck, Sluggo!, Nonkertompf, Dancing, Wooden Smoke, Dog, Scambot 1, Wing Beat Fantastic, You Must Be This Tall, Scambot 2, The Thing That Knowledge Can't Eat – the primary canon, not counting bonus discs and live albums and the like) at these shows, the closest thing to a retrospective show I've ever presented.
The wonderful Travis Larson Band will be with us on all of the dates, I'm delighted to say!
The five dates are these:
Jan 13 – The Grand Ritz, Escondido (record release party/concert for The Thing That Knowledge Can't Eat) – 7pm | Tickets
Jan 14 – Alvas Showroom, San Pedro – 7pm | Tickets
Jan 15 – Alvas Showroom, San Pedro – 4pm | Tickets
Jan 16 – The Siren, Morro Bay – 6:30pm | Tickets
Jan 17 – The Baked Potato, LA – two sets, 8 and 10pm | Tickets