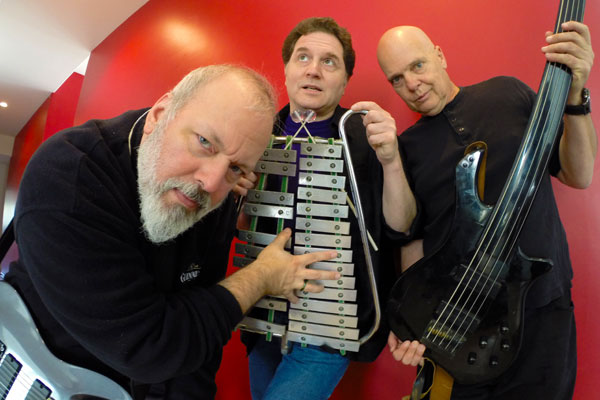 Hi pals!
Having done two "research mission" performances in San Diego and Los Angeles last month, the trio of Keneally-Bendian-Lunn will now apply the lessons learnt to a slate of performances in May 2014. A scant few weeks from now. We'll begin in Nashville (5/15), then move on to St. Louis, Chicago, Greenwood, Columbus, Baltimore, NYC, Long Island, Philly, Dunellen, Cambridge, Charleston, and wind up at a festival in Scottsville, KY (5/31).
I think we as a trio really began to gel as a unit during the second set at the Baked Potato recently – things got severely powerful and I am excited to continue along that line with Gregg and Doug, two of the more forward-thinking and adventurous musicians I've ever encountered.
Also, it's great fun to return to the world of the trio, which was my preferred mode of performance when I started doing shows under my own name in the early '90s and throughout most of that decade. I've loved being able to do more orchestrated things with larger ensembles in the years since then, and will continue to do so in the future no doubt, but have to admit that there's something about a trio which is incredibly liberating and special to me.
More tour details coming soon, and see you on the road I hope!
GREAT NEWS, EUROPEAN FANS! KENEALLY PRODUCTS NOW SOLD FROM THE U.K.!

BurningShed.com has long been a deeply respected online portal for the works of King Crimson, Steven Wilson and many other progressive acts, so we at Exowax were delighted to learn that they were interested in carrying some of my work (Andy Partridge was kind enough to pass along word to us of their interest). The upshot of this is the brand new Mike Keneally Store at Burning Shed. At present they are carrying three of the newer releases. This is great news for us as it's an honor to be on such a highly-regarded site, and also great news for any Europe-based Keneally fans who have fallen foul of the increasingly punitive postage rates required to get product mailed from the US. I'm delighted to be a part of the Burning Shed family now.
A NIGHT OF MUSIC AND COMEDY WITH BRENDON SMALL AT THE BAKED POTATO APRIL 15
I've recently had the pleasure of taking part in a number of music/comedy performances with Brendon Small at The Improv in LA – always unpredictable and truly fun.
Now we're bringing the craziness to my second home, the stage of the Baked Potato.
Performing music along with me and Brendon will be Joe Travers and Pete Griffin.
And performing comedy along with Brendon will be Steve Agee, Marc Maron, Emo Phillips and Dana Gould – an extremely glittering assemblage!
Tickets are available online here.
Best to David Letterman on his retirement! Boy, he was an important figure to me in the '80s and I'm delighted that he gets to chill now. Bravo Dave.
Hope you're all good! Talk to you again soon.
Love,
Mike