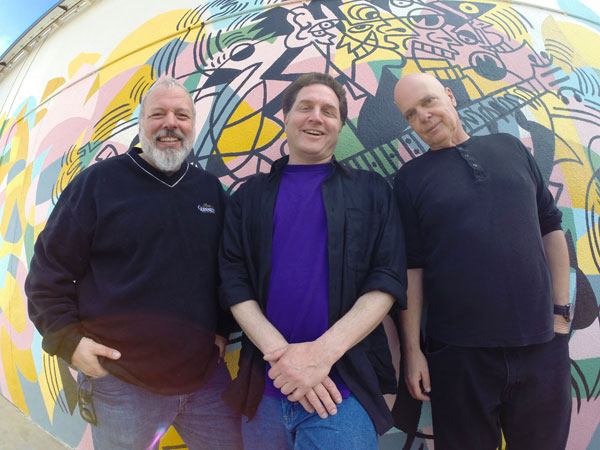 It's me. Hey!
I'm pleased as peanut to present the vital details for the Keneally-Bendian-Lunn May 2014 Tour. Dates and all info are below.
We shall build boldly upon lessons learned and visions glimpsed. We will leave no stone unturned in providing you good people with a stupidly memorable musical experience.
I'm dag excited to have the opportunity to explore with Gregg and Doug over a series of gigs lasting a couple of weeks. I know things are going to get nuts out there, in a good way.
As always, our ability to do tours such as these in the future rests squarely on the success of tours such as these in the present… if you were inclined to spread the word about these tour dates, our arrows of gratitude will fly in your name.
We shall speak more of things soon!
Many o'thank ye,
Mike
Keneally-Bendian-Lunn May 2014 U.S. Tour
Thursday, May 15
Douglas Corner
2106 8th Ave S.
Nashville, TN 37204

615.298.1688
$15 tix
Doors 8pm
Friday, May 16
The Demo
4144 Manchester Avenue
St. Louis, MO 63110
$20 tix
Doors 8pm
Saturday, May 17
Reggie's (Music Joint)
2105 S. State St.
Chicago, IL 60616
312.949.0120
$20 tix
Doors 8pm
Sunday, May 18
Guitar Works
996 South Indiana 135
Greenwood, IN 46134
317.885.1501
$15 tix
Doors 6:20pm
Tuesday, May 20
Rumba Café
2507 Summit St.
Columbus, OH 43202
614.268.1841
$20 tix
Doors 7:30pm
Thursday, May 22
Orion Studios
2903 Whittington Ave #C
Baltimore, MD 21230
410.646.7334
$25 tix
Doors 8pm
Friday, May 23
Milkboy
1100 Chestnut St.
Philadelphia, PA 19107
215.925.6455
$20 tix
Doors 8:30pm
Saturday, May 24
The Cutting Room
44 East 32nd Street
(between Park Ave and Madison Ave)
New York, NY 10016
212.691.1900
$15 tix advance, $20 at the door
Doors: 6pm
Sunday, May 25
KJ Farrell's
242 Pettit Ave.
Bellmore, NY 11710
516.804.9925
$20 tix
Doors 6:30pm
Monday, May 26
NJ Proghouse
Roxy & Dukes
745 Bound Brook Rd.
Dunellen, NJ 08812
862.245.1780
$27 advance tix, $35 at the door
Doors 6pm
Tuesday, May 27
The Middle East (upstairs)
472-480 Massachusetts Ave.
Central Square
Cambridge, MA 02139
617.864.3278
$15 tix
Doors 8pm
Wednesday, May 28
Bearsville Theater
291 Tinker Street (Route 212)
Woodstock, NY 12498
845.679.4406
$20 tix
Doors 7pm
Friday, May 30
The Empty Glass
410 Elizabeth St.
Charleston, WV 25311
304.345.3914
$15 tix
Doors 9pm
Saturday, May 31
Arts on Main Pavilion
201 E Main St.
Scottsville, KY 42164
270.237.4062
Free!
7pm showtime