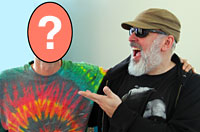 Hither!
For the Keneally-Bendian-Lunn May Tour (see dates and cities below), we're bringing back an old custom that we used to do a lot in the '90s and early '00s – the Guest Host program.
Wanna be a Guest Host? It's a fun way for (potentially) you and (definitely) I to connect, and for us to get some VERY needed and welcome assistance on the road.
We're looking for an enthusiastic someone in each city of the tour to help us get people to the show, by distributing posters to record and music stores (if you still have such things in your region) and any other appropriate locations, spreading the word amongst your friends, contacting any local media you can gain access to, helping us with social media etc.
You'd meet us at the venue (bring a buddy and if you're able to help with loading in our stuff, we appreciate it), hang with us, watch soundcheck and all the attendant rigamarole. You and your pal will get tickets to the show of course. You can introduce us at the beginning of the show, if you like.
And I'll hand you a CD-R with a few mixes in progress from the upcoming Scambot 2 album. Only up to 14 of these CD-Rs will be handed out, one per city. You and I will pinky swear that you'll keep the music private. If your pals want to hear, they can come over to your house and listen. In this way we will bring back the communal aspects of music listening in a way not seen since it was last seen.