Plus, new Scambot 2 video, save 20% at the MK Store!
Hey pals!
Presently I am re-jiggering my pedalboard and about to change my guitar strings – not the sort of activities which generally bring me much joy (I am so NOT a gear-oriented guy) but today I do them with a keen sense of anticipation. The Keneally-Bendian-Lunn tour starts this week (first show is Thursday the 15th in Nashville) and I'm jazzed about it.
I want to thank, with all sinceriosity, the people who volunteered to be Guest Hosts (and Associate Guest Hosts) for the upcoming shows, and are doing all they can to help us spread the word. If you have pals who might not know about the gigs and would enjoy them, let them know what's happening!
A few days ago I tweaked a few mixes and did a few overdubs on some Scambot 2 material, and that was the last day of many weeks spent this year (so far) on the album. There's still a lot to do, but at this point I'll say it's about 68.1% in the bag. I'll be listening to the rough mixes a lot over the next couple of months of touring, and planning the next steps. In the meantime you can check out Blair's video of me working on the vocal tracks for a song provisionally entitled "Roots Twist." Most of the things I've been working have been instrumentally oriented, and I'm still on the fence about putting vocals on a lot of it – it's sounding really good to me as is with a bunch of the stuff.
I want to thank Mike Harris for the many hours he's put in expertly engineering and mixing this new music, and Scott Chatfield for allowing his life and home to be monopolized by Scambot 2 recordings, not to mention the huge amount of time he's spent getting the KBL tour off the ground, and all the other millions of things he does for me. Thanks also to Julie and Rodney Cord at Blue Mouth Promotions for booking the KBL tour so expertly.
I'm writing this on Mothers' Day and naturally thinking a lot about my mom, and who supported me and my musical leanings so unceasingly and was always so wonderfully caring. She was such a lovely person. Thank you Mom always.
Now I'm off with Sarah to check out a Thundercat gig here in San Diego. Bring it on, Thunder.
I'll be seeing some of you all on the road, either on the KBL tour about to commence or the Satriani tour starting in a few weeks.
Take care friends!
Mike
Keneally-Bendian-Lunn May 2014 U.S. Tour: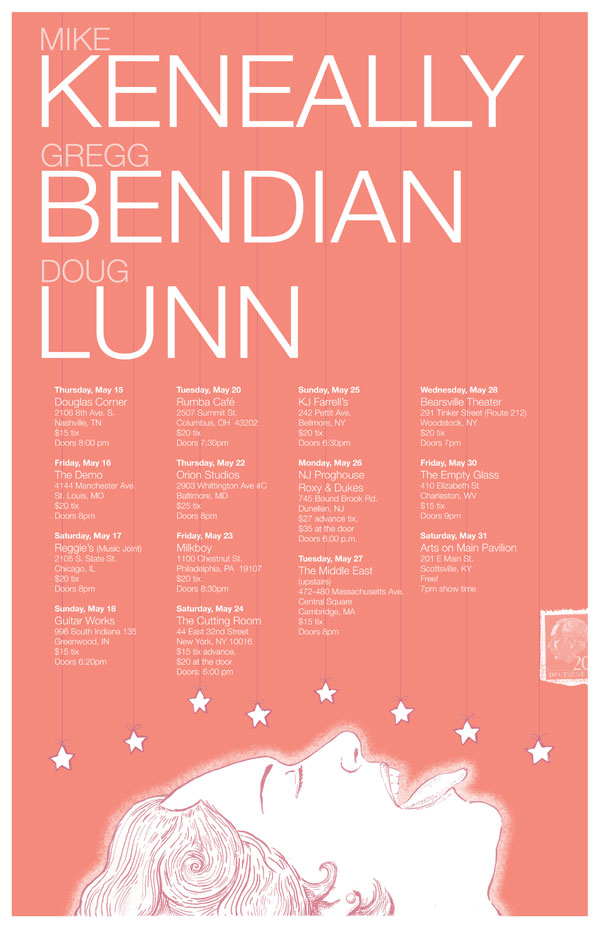 Thursday, May 15
Douglas Corner
2106 8th Ave S.
Nashville, TN 37204
615.298.1688
$15 tix
Doors 8pm
Guest Host: Julian Herrera
Friday, May 16
The Demo
4191 Manchester Avenue
St. Louis, MO 63110
$20 tix
Doors 8pm
Guest Host: Dan Kinney
Associates: Rich Mueller, Tim Wagner
Saturday, May 17
Reggie's (Music Joint)
2105 S. State St.
Chicago, IL 60616
312.949.0120
$20 tix
Doors 8pm
Guest Host: John Slywka
Associate: Robert Read
Sunday, May 18
Guitar Works
996 South Indiana 135
Greenwood, IN 46134
317.885.1510
$15 tix
Doors 6:20pm
Guest Host: Mara McCabe
Associate: Michael Maier
Tuesday, May 20
Rumba Café
2507 Summit St.
Columbus, OH 43202
614.268.1841
$20 tix
Doors 7:30pm
Guest Host: Dane Runyon
Thursday, May 22
Orion Studios
2903 Whittington Ave #C
Baltimore, MD 21230
410.646.7334
$25 tix
Doors 8pm
Guest Host: J.D. Mack
Friday, May 23
Milkboy
1100 Chestnut St.
Philadelphia, PA 19107
215.925.6455
$20 tix
Doors 8:30pm
Guest Host: George Schueller
Associate: Brian Bernardini
Saturday, May 24
The Cutting Room
44 East 32nd Street
(between Park Ave and Madison Ave)
New York, NY 10016
212.691.1900
$15 tix advance, $20 at the door
Doors: 6pm
Guest Host: David Brady
Sunday, May 25
KJ Farrell's
242 Pettit Ave.
Bellmore, NY 11710
516.804.9925
$20 tix
Doors 6:30pm
Guest Host: Mario Casella
Associate: Cliff Schlesinger
Monday, May 26
NJ Proghouse
Roxy & Dukes
745 Bound Brook Rd.
Dunellen, NJ 08812
862.245.1780
$27 advance tix, $35 at the door
Doors 6pm
Tuesday, May 27
The Middle East (upstairs)
472-480 Massachusetts Ave.
Central Square
Cambridge, MA 02139
617.864.3278
$15 tix
Doors 8pm
Guest Host: Chris Ingalls
Associate: Donato Mastrangelo
Wednesday, May 28
Bearsville Theater
291 Tinker Street (Route 212)
Woodstock, NY 12498
845.679.4406
$20 tix
Doors 7pm
Guest Host: Colin LaMastro
Associate: Kirk McElrath
Friday, May 30
The Empty Glass
410 Elizabeth St.
Charleston, WV 25311
304.345.3914
$15 tix
Doors 9pm
Guest Host: David Roberts
Associate: Ian Beabout
Saturday, May 31
Arts on Main Pavilion
201 E Main St.
Scottsville, KY 42164
270.237.4062
Free!
7pm showtime
---
Mike records vocals for Scambot 2– video below!
Mike works on vocals for a Scambot 2 song he's tentatively titled "Roots Twist." Video and interview are by Blair using the sacred Exowax GoPro camera. Click here to see it.
---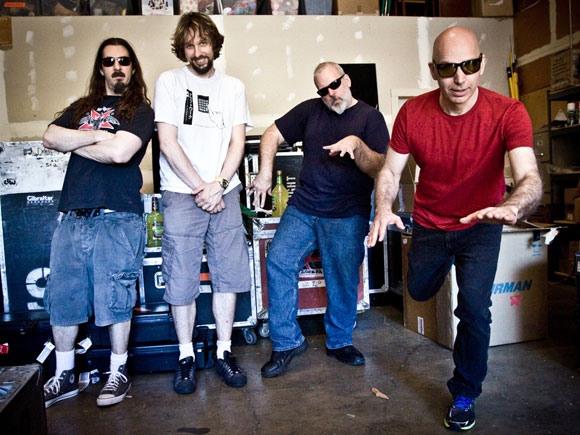 Immediately after the KBL tour, I'm back on the road with Joe Satriani, Bryan Beller and Marco Minnemann for a couple of shows on the East Coast of the US and then a spate of gigs for a few weeks across Europe. If you weren't able to catch us on the road last year, I hope you'll be able to make it to a gig this time around. There will be more touring later in the year. I'm excited to get back on the mighty Satch steamroller and really looking forward to this year's gigs:
Unstoppable Momentum World Tour 2014
(Joe Satriani, Mike Keneally, Bryan Beller, Marco Minnemann)
Jun 7 – The Space At Westbury – Westbury, NY
Jun 10 – The Ridgefield Playhouse – Ridgefield, CT
Jun 14 – Loreley – St. Goarshausen, DE
Jun 15 – TivoliVrendenburg (Ronda Hall) – Utretcht, NL
Jun 16 – Posten – Odense, DK
Jun 17 – Amager Bio – Copenhagen, DK
Jun 18 – Rockefeller – Oslo, NO
Jun 20 – Rockhal Club – Esch-sur-Alzette, LUX
Jun 21 – La Trebendo, Paris, FR
Jun 23 – L'Olympia – Paris, FR
Jun 24 – Openluchttheatre – Antwerp, BE
Jun 25 – Garage Saarbrücken – Saarbrucken, DE
Jun 26 – Zeltfestival – Ulm, DE
Jun 27 – Tollhaus – Karlsruhe, DE
Jun 28 – Jazz'n'Blues Festival – Rapperswil-Jona, CH
Jun 30 – La Laiterie – Strasbourg, FR
Jul 01 – Casino – Amneville, FR
Jul 02 – La Cooperative de Mai – Clermont-Ferrand, FR
Jul 03 – Cascina San Giacomo – Rezzato, Brescia, IT
Jul 04 – Diga Nazario Sauro – Grado, Friuli-Venezia Giulia, IT
Jul 06 – Festival Jazz a Vienne – Vienne, FR (with Jeff Beck!)
Jul 08 – Espace Malraux – Six-Fours-les-Plages, FR
Jul 12 – Teatro Axerquia – Cordoba, ES
Jul 14 – Grec Theatre – Barcelona, ES
Jul 19 – Festival de Carcassone – Carcassone, FR
Jul 20 – Crazy Week!! The Nice Pop Rock Festival – Nice, FR
---
THE G4 EXPERIENCE

I, along with Joe Satriani, Paul Gilbert and Andy Timmons, will be diving deep into all aspects of guitar playing at The G4 Experience this August at the Cambria Pines Lodge in California. I will relish the opportunity to explore all the facets of my musicianship and share it with everyone there. I suspect I'll be learning a lot about myself in the process! The location looks to be heavenly as well – I'm looking forward to everything about this.
SAVE 20% AT THE MIKE KENEALLY STORE
There is still a sale on at the Mike Keneally Store, going from now through to the end of the tour, May 31). 20% off of all purchases of $50 or more – please use the promo code MAYHEM.