I'm writing this on my daughter's 20th birthday. Mind reeling from the implications. Happy birthday sweetheart!
GUEST HOSTS FOR THE KENEALLY-BENDIAN-LUNN TOUR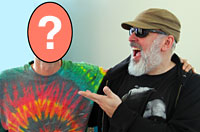 Response to the Guest Host program for the upcoming Keneally-Bendian-Lunn tour (dates and Guest Hosts here) has been swift and extremely rewarding. Thank you to all first responders very kindly! Thou art heroic. We have Guest Hosts anointed for the majority of the gigs, but we still seek out a few hearty souls to assist us for shows in PHILADELPHIA, DUNELLEN NJ and SCOTTSVILLE KY.
Guest Hosts can help us by increasing local awareness of our gig, printing and putting up posters (we supply the artwork), arranging any local media that is within their reach, and helping with online tubthumping. The GH and a pal will meet us at the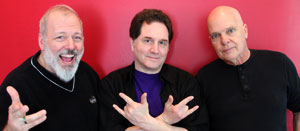 venue, help with load-in if they're capable, get tickets to the gig of course, hang out with us before and after the show, introduce us onstage if they wish to (no one is forced to), and at some point I will hand him/her a CD-R containing rough mixes from Scambot 2, currently in progress and estimated to be approximately 63% complete.
If you'd like to be one of the few, the proud, the Guest Hosts for the last remaining gigs, please write to Blair at guesthost@keneally.com.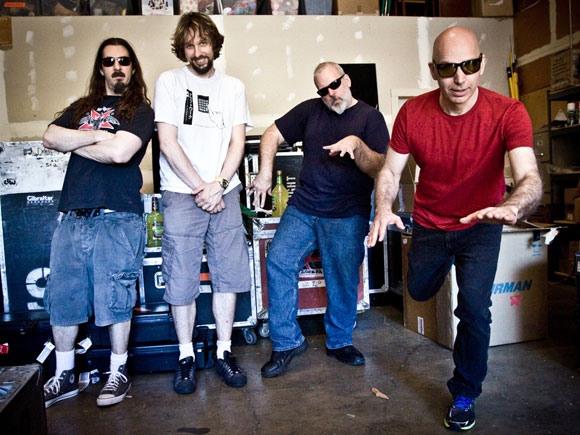 Immediately after the KBL tour, I'm back on the road with Joe Satriani, Bryan Beller and Marco Minnemann for a couple of shows on the East Coast of the US and then a spate of gigs for a few weeks across Europe. If you weren't able to catch us on the road last year, I hope you'll be able to make it to a gig this time around. There will be more touring later in the year. I'm excited to get back on the mighty Satch steamroller and really looking forward to this year's gigs:
Unstoppable Momentum World Tour 2014
(Joe Satriani, Mike Keneally, Bryan Beller, Marco Minnemann)
Jun 7 – The Space At Westbury – Westbury, NY
Jun 10 – The Ridgefield Playhouse – Ridgefield, CT
Jun 14 – Loreley – St. Goarshausen, DE
Jun 15 – TivoliVrendenburg (Ronda Hall) – Utretcht, NL
Jun 16 – Posten – Odense, DK
Jun 17 – Amager Bio – Copenhagen, DK
Jun 18 – Rockefeller – Oslo, NO
Jun 20 – Rockhal Club – Esch-sur-Alzette, LUX
Jun 21 – La Trebendo, Paris, FR
Jun 23 – L'Olympia – Paris, FR
Jun 24 – Openluchttheatre – Antwerp, BE
Jun 25 – Garage Saarbrücken – Saarbrucken, DE
Jun 26 – Zeltfestival – Ulm, DE
Jun 27 – Tollhaus – Karlsruhe, DE
Jun 28 – Jazz'n'Blues Festival – Rapperswil-Jona, CH
Jun 30 – La Laiterie – Strasbourg, FR
Jul 01 – Casino – Amneville, FR
Jul 02 – La Cooperative de Mai – Clermont-Ferrand, FR
Jul 03 – Cascina San Giacomo – Rezzato, Brescia, IT
Jul 04 – Diga Nazario Sauro – Grado, Friuli-Venezia Giulia, IT
Jul 06 – Festival Jazz a Vienne – Vienne, FR (with Jeff Beck!)
Jul 08 – Espace Malraux – Six-Fours-les-Plages, FR
Jul 12 – Teatro Axerquia – Cordoba, ES
Jul 14 – Grec Theatre – Barcelona, ES
Jul 19 – Festival de Carcassone – Carcassone, FR
Jul 20 – Crazy Week!! The Nice Pop Rock Festival – Nice, FR
THE G4 EXPERIENCE

I, along with Joe Satriani, Paul Gilbert and Andy Timmons, will be diving deep into all aspects of guitar playing at The G4 Experience this August at the Cambria Pines Lodge in California. I will relish the opportunity to explore all the facets of my musicianship and share it with everyone there. I suspect I'll be learning a lot about myself in the process! The location looks to be heavenly as well – I'm looking forward to everything about this.
There are 35 pieces of music in the works for Scambot 2. Not all will make it to the final release (some undoubtedly will appear on a second disc for the special edition) and there are still several other pieces that need to be created, so there is a lot of new music swirling around.
Some of the music dates back to the sessions for Scambot 1 but a lot of it has been created entirely anew, and it all has a very distinct feel from the first volume. I'm too close to it to really tell but the majority of it feels quite different from anything I've done before. I'm having a tremendously good time working on it all and am slightly regretful that I'll have to take a break from recording with all the live playing about to happen! But it'll be good for me to have some time away to assess all that has been done so far and work out the proper next steps.
People who've appeared on the material so far include Kris Myers, Marco Minnemann, Joe Travers, Gregg Bendian, Doug Lunn, Bryan Beller and Rick Musallam and Evan Francis. There will be appearances from some other luminaries whom I've never recorded with before. You'll get to hear it all eventually! Out no later than 2015, promise.
S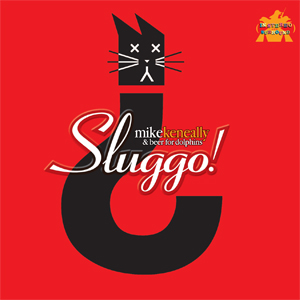 TILL 20% OFF AT THE MK STORE
There is still a sale on at the Mike Keneally Store, going from now through to the end of the tour, May 31). 20% off of all purchases of $50 or more – please use the promo code MAYHEM.
I hope you're doing well!
Albatross!
Mike
Keneally-Bendian-Lunn May 2014 U.S. Tour Dates: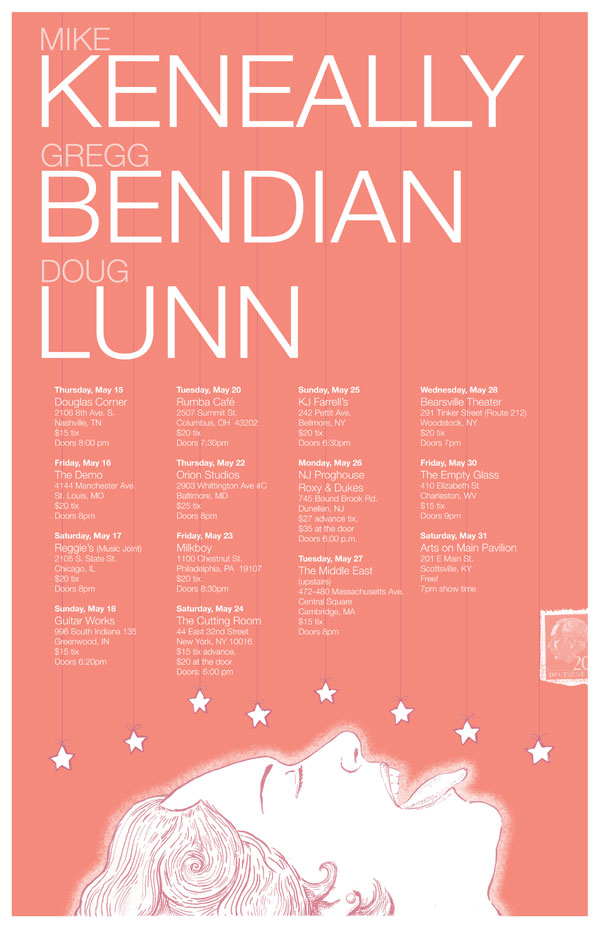 Thursday, May 15
Douglas Corner
2106 8th Ave S.
Nashville, TN 37204
615.298.1688
$15 tix
Doors 8pm
Guest Host: Julian Herrera
Friday, May 16
The Demo
4191 Manchester Avenue
St. Louis, MO 63110
$20 tix
Doors 8pm
Guest Host: Dan Kinney
Associates: Rich Mueller, Tim Wagner
Saturday, May 17
Reggie's (Music Joint)
2105 S. State St.
Chicago, IL 60616
312.949.0120
$20 tix
Doors 8pm
Guest Host: John Slywka
Associate: Robert Read
Sunday, May 18
Guitar Works
996 South Indiana 135
Greenwood, IN 46134
317.885.1510
$15 tix
Doors 6:20pm
Guest Host: Mara McCabe
Associate: Michael Maier
Tuesday, May 20
Rumba Café
2507 Summit St.
Columbus, OH 43202
614.268.1841
$20 tix
Doors 7:30pm
Guest Host: Dane Runyon
Thursday, May 22
Orion Studios
2903 Whittington Ave #C
Baltimore, MD 21230
410.646.7334
$25 tix
Doors 8pm
Guest Host: J.D. Mack
Friday, May 23
Milkboy
1100 Chestnut St.
Philadelphia, PA 19107
215.925.6455
$20 tix
Doors 8:30pm
Guest Host: George Schueller
Associate: Brian Bernardini
Saturday, May 24
The Cutting Room
44 East 32nd Street
(between Park Ave and Madison Ave)
New York, NY 10016
212.691.1900
$15 tix advance, $20 at the door
Doors: 6pm
Guest Host: David Brady
Sunday, May 25
KJ Farrell's
242 Pettit Ave.
Bellmore, NY 11710
516.804.9925
$20 tix
Doors 6:30pm
Guest Host: Mario Casella
Associate: Cliff Schlesinger
Monday, May 26
NJ Proghouse
Roxy & Dukes
745 Bound Brook Rd.
Dunellen, NJ 08812
862.245.1780
$27 advance tix, $35 at the door
Doors 6pm
Tuesday, May 27
The Middle East (upstairs)
472-480 Massachusetts Ave.
Central Square
Cambridge, MA 02139
617.864.3278
$15 tix
Doors 8pm
Guest Host: Chris Ingalls
Associate: Donato Mastrangelo
Wednesday, May 28
Bearsville Theater
291 Tinker Street (Route 212)
Woodstock, NY 12498
845.679.4406
$20 tix
Doors 7pm
Guest Host: Colin LaMastro
Associate: Kirk McElrath
Friday, May 30
The Empty Glass
410 Elizabeth St.
Charleston, WV 25311
304.345.3914
$15 tix
Doors 9pm
Guest Host: David Roberts
Associate: Ian Beabout
Saturday, May 31
Arts on Main Pavilion
201 E Main St.
Scottsville, KY 42164
270.237.4062
Free!
7pm showtime