Plus, new Scambot 2 video, save 20% at the MK Store!
Hey pals!
Presently I am re-jiggering my pedalboard and about to change my guitar strings – not the sort of activities which generally bring me much joy (I am so NOT a gear-oriented guy) but today I do them with a keen sense of anticipation. The Keneally-Bendian-Lunn tour starts this week (first show is Thursday the 15th in Nashville) and I'm jazzed about it.
I want to thank, with all sinceriosity, the people who volunteered to be Guest Hosts (and Associate Guest Hosts) for the upcoming shows, and are doing all they can to help us spread the word. If you have pals who might not know about the gigs and would enjoy them, let them know what's happening!
A few days ago I tweaked a few mixes and did a few overdubs on some Scambot 2 material, and that was the last day of many weeks spent this year (so far) on the album. There's still a lot to do, but at this point I'll say it's about 68.1% in the bag. I'll be listening to the rough mixes a lot over the next couple of months of touring, and planning the next steps. In the meantime you can check out Blair's video of me working on the vocal tracks for a song provisionally entitled "Roots Twist." Most of the things I've been working have been instrumentally oriented, and I'm still on the fence about putting vocals on a lot of it – it's sounding really good to me as is with a bunch of the stuff.
Read more
I'm writing this on my daughter's 20th birthday. Mind reeling from the implications. Happy birthday sweetheart!
GUEST HOSTS FOR THE KENEALLY-BENDIAN-LUNN TOUR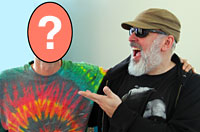 Response to the Guest Host program for the upcoming Keneally-Bendian-Lunn tour (dates and Guest Hosts here) has been swift and extremely rewarding. Thank you to all first responders very kindly! Thou art heroic. We have Guest Hosts anointed for the majority of the gigs, but we still seek out a few hearty souls to assist us for shows in PHILADELPHIA, DUNELLEN NJ and SCOTTSVILLE KY.
Guest Hosts can help us by increasing local awareness of our gig, printing and putting up posters (we supply the artwork), arranging any local media that is within their reach, and helping with online tubthumping. The GH and a pal will meet us at the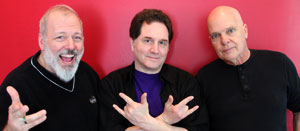 venue, help with load-in if they're capable, get tickets to the gig of course, hang out with us before and after the show, introduce us onstage if they wish to (no one is forced to), and at some point I will hand him/her a CD-R containing rough mixes from Scambot 2, currently in progress and estimated to be approximately 63% complete.
If you'd like to be one of the few, the proud, the Guest Hosts for the last remaining gigs, please write to Blair at guesthost@keneally.com. Read more