You Must Be This Tall out now!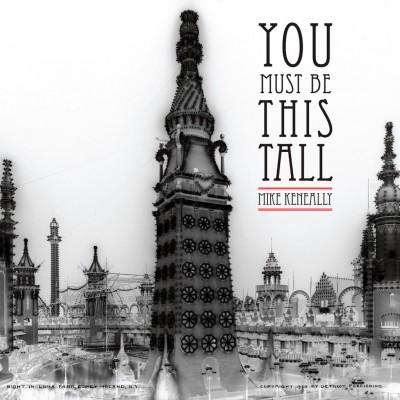 Hello Keneallistians! Making this quick 'cause it's Sarah's birthday and we're about to go out for lunch, but we wanted to let you know that today is the official release date for You Must Be This Tall.
It's been pre-orderable for a couple of weeks as a CD + download, but as of today it's fully officially available – and for those of you who have enough three-dimensional objects in your life, it's now available as a download-only purchase if you wish.
If you buy the download directly from us you will also get the full album artwork as it appears in the CD package – even including the label art (we are obsessive about such things). Available in both mp3 and FLAC options for the same low, low, low, low, low price.
You can also check out a collage of song samples there. And some reviews are coming in here, here and here (broken link).
The response to the album has been really wonderful so far. Thanks to everyone who's had such nice things to say about it!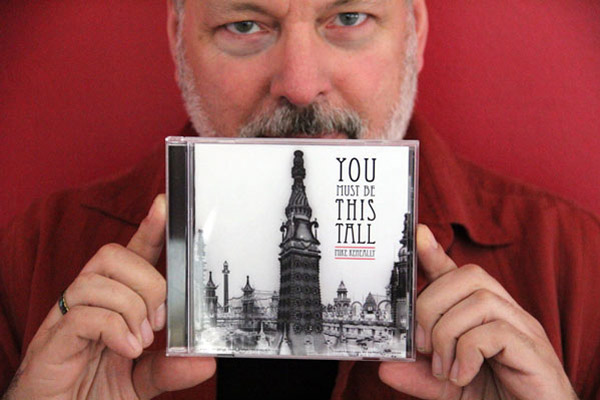 It's pretty out there. But in a good way, I think – I'm really thrilled with this album. I think all of the composition, arranging, production and playing is strong and it all just comes off right, to my ears.
There's a lot of guitar playing on it, a lot of crazy writing, and we focused hard on doing mixes which got the best out of the arrangements. A number of people who don't lie to me have said they think it might be my best album. I sure can't say, but I know I really enjoy hearing it.
I play a lot of the instruments myself, and also had some killer assistance on key tracks from Bryan Beller, Marco Minnemann, Joe Travers, Rick Musallam, Missy Andersen and Andy Partridge (Andy plays guitar on the song "Indicator," an additional composition from the songwriting sessions that resulted in Wing Beat Fantastic).
The title song was written for the Metropole Orkest in 2006 for a live performance with Peter Tiehuis; this recording is my original version of it, shined up all nicely for you.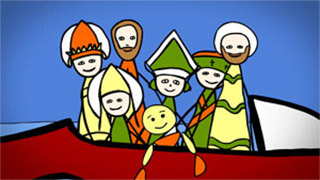 There's a phenomenally strange song called "Kidzapunk" which has an insane Minnemann performance and various indefensible sounds. There are epic guitar hero moves on "Pitch Pipe" and "The Rider" (that one also has a beautiful vocal from Missy Andersen). Some moody electronics on "Bolarius" and "5th St." Some utter insanity on "Glop." A prog standard in the making in "Cavanaugh."
The Mike Keneally Band (me, Beller, Travers and Musallam) play on two tracks, "Cornbread Crumb" and "Popes." The stuff the guys play is out-of-this-world sweet and funky. The band's performance on "Cornbread Crumb" blows my mind, it's my favorite song on the album. But they lay it down beautifully on "Popes" also. The Bulgarian animator Dimitriya has done a sweet new video for the song "Popes," which you can see here.
It is a real pleasure to bring you You Must Be This Tall and I hope you dig the hell out of it.
HELP US GET THE WORD OUT?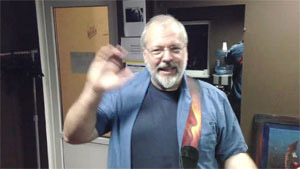 We would love and appreciate your help in spreading the word about this album! We're working with Jamplify to reach fans who would like to share the pre-order link for You Must Be This Tall in various social platforms, message boards and the like. Basically just helping us spread the word around – a lot of you do this already just because you want to, and believe me, I am crazy grateful to you.
Everyone who signs up for our Jamplify fan-promotion campaign (using their Facebook or Twitter accounts) will get our cow-sized gratitude; they'll also get two unreleased tracks (alternate, radically different versions of two songs from YMBTT).
The top ten promoters – meaning the ten people who share the pre-order link online the largest number of times – will get to hang out with me at an online Google hangout thing (someone will explain to me how it works) later in the year.
All the details about the Jamplify campaign are in this damn video.
Here. We give this to you. We give you two new EPs, about a half-hour long each, presenting a total of ten tracks drawn from our vast live music archive, and yours for FREE. Music from the period 1998 to 2007, featuring many of your favorite Keneally Band members and special guest Dutch participants. And, it's freaking FREE. Go download your hour of FREE live music right chover here.


SATCH TOUR THANKS
Thank you to everyone who was a part of the Satriani European tour which ended a few weeks ago. Seriously freaking good times. The North American tour begins in San Diego this Thursday (the dates can be found immediately below). Looking forward to getting back on the road with Joe, Bryan and Marco again – the last tour was just fiendishly fun.
And, we are trying to work out ways to bring you some of the You Must Be This Tall music live on stage before the end of the year.
More soon! Thanks
Your buddy,

Keneally Concert Calendar:
Mike Keneally plays keyboards and guitar on
Joe Satriani's USA 2013 Tour
with Bryan Beller (bass) and Marco Minnemann (drums)!
(More info here)
| | | |
| --- | --- | --- |
| August 29, 2013 | Balboa Theatre | San Diego, CA |
| August 30, 2013 | Pearl Concert Theatre at Palm Springs | Las Vegas, NV |
| August 31, 2013 | Orpheum Theatre | Los Angeles, CA |
| September 1, 2013 | Talking Stick Resort Ballroom | Scottsdale, AZ |
| September 2, 2013 | Kiva Auditorium | Albuquerque, NM |
| September 4, 2013 | Historic Paramount Theatre | Denver, CO |
| September 5, 2013 | Wagner Noel Performing Arts Center | Midland, TX |
| September 6, 2013 | Verizon Theatre at Grand Prairie | Grand Prairie, TX |
| September 7, 2013 | House of Blues | Houston, TX |
| September 8, 2013 | Austin City Limits – Moody Theater | Austin, TX |
| September 10, 2013 | House of Blues | New Orleans, LA |
| September 11, 2013 | Ruth Eckerd Hall | Clearwater, FL |
| September 12, 2013 | Parker Playhouse | Fort Lauderdale, FL |
| September 13, 2013 | Hard Rock Live | Orlando, FL |
| September 14, 2013 | Saenger Theatre | Pensacola, FL |
| September 15, 2013 | Symphony Hall | Atlanta, GA |
| September 17, 2013 | War Memorial Auditorium | Nashville, TN |
| September 18, 2013 | Chicago Theatre | Chicago, IL |
| September 19, 2013 | Lakewood Civic Auditorium | Lakewood, OH |
| September 20, 2013 | Taft Theatre | Cincinatti, OH |
| September 21, 2013 | Wings Stadium | Kalamazoo, MI |
| September 22, 2013 | Macomb Music Theatre | Mt. Clemens, MI |
| September 24, 2013 | The Carolina Theatre | Durham, NC |
| September 25, 2013 | The Warner Theatre | Washington, DC |
| September 26, 2013 | Beacon Theatre | New York, NY |
| September 27, 2013 | Orpheum Theatre | Boston, MA |
| September 28, 2013 | Tower Theatre | Upper Darby, PA |
| September 29, 2013 | Carnegie Music Hall of Homestead | Munhall, PA |
| October 1, 2013 | University of Buffalo Center for the Arts | Buffalo, NY |
| October 2, 2013 | Palace Theatre | Albany, NY |
| October 3, 2013 | State Theatre | Portland, ME |
| October 4, 2013 | Centre at Casino New Brunswick | Moncton, NB CA |
| October 5, 2013 | Rebecca Cohn Auditorium | Halifax, NS CA |
| October 7, 2013 | Capitole Theatre | Quebec City, QC CA |
| October 8, 2013 | National Arts Centre | Ottawa, ON CA |
| October 9, 2013 | Theatre St. Denis | Montreal, QC CA |
| October 10, 2013 | Centre in the Square | Kitchener, ON CA |
| October 11, 2013 | Massey Hall | Toronto, ON CA |
| October 14, 2013 | Burton Cummings Theatre | Winnipeg, MB CA |
| October 15, 2013 | TCU Place | Saskatoon, SK CA |
| October 16, 2013 | Northern Jubilee Auditorium | Edmonton, AB CA |
| October 17, 2013 | Southern Jubilee Auditorium | Calgary, AB CA |
| October 19, 2013 | Vogue Theatre | Vancouver, BC CA |
| October 21, 2013 | Fox Theatre | Spokane, WA |
| October 22, 2013 | Paramount Theatre | Seattle, WA |
| October 23, 2013 | Elsinore Theatre | Salem, OR |
| October 25, 2013 | Vina Robles Amphitheatre | Paso Robles, CA |
| October 26, 2013 | Fox Theater | Oakland, CA |