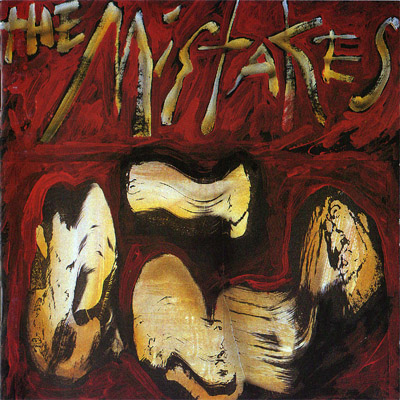 The Mistakes
The Mistakes
Released 1995
Put The Bass In The Middle Of My Head
Aye-Aye Monster
Haiku Andy
Island of Lost Luggage
Nests
Career Politicians
Haiku Henry
Ennui (prelude)
Transmogrification of Chili (ennui)
Warm Papaya
Shoko
Waiting on Williams
Hai kuneally
Hot Cakes or Abbatoir?
A Plethora Of Pinatas
Assembly Language
Sirenita The Greek
Baby Blues
Prince Poem
The Mistakes vs. Dropped D
---
The Mistakes
The Mistakes
Is The Mistakes the Great Lost Keneally Album? It's tempting to think so, but this fiercely eccentric foursome comprised of Mike, guitarist Henry Kaiser, bassist Andy West and drummer Prairie Prince created something wonderfully different from any other Keneally effort (which is really saying something). "This album, and the fact that this band existed," says Mike, "is still kind of a secret." A mere thousand copies were pressed in 1995 and it has never been reissued until now– one of those records that more people have heard of than actually heard.
It would be futile to attempt to describe this music, except to note that it's a bravely unsettling concoction born of rambunctious rock n' roll interplay, the peculiar contributions of four legendarily talented musicians and even a bit of poetry. Guitar Player magazine suggested that we "consider this all-star aggregate the new Traveling Wilburys– roaming the underground and armed with automatic weapons."
Put The Bass In The Middle Of My Head
Aye-Aye Monster
Haiku Andy
Island of Lost Luggage
Nests
Career Politicians
Haiku Henry
Ennui (prelude)
Transmogrification of Chili (ennui)
Warm Papaya
Shoko
Waiting on Williams
Hai kuneally
Hot Cakes or Abbatoir?
A Plethora Of Pinatas
Assembly Language
Sirenita The Greek
Baby Blues
Prince Poem
The Mistakes vs. Dropped D
---
The Mistakes
Mike Keneally With The Mistakes
(Original release)
(Here's some detailed information about THE MISTAKES. The drawings are rough sketches of the band members done by Prairie Prince (our drummer); they were done merely for reference, but I loved their rough quality and decided to use them as they were. Not all of these drawings are included in the final artwork; some of them are exclusive to this page.)
CD song list:
Put The Bass In The Middle Of My Head (5:05)
Aye-Aye Monster (6:15)
Haiku Andy (0:30)
Island of Lost Luggage (4:40)
Nests (1:57)
Career Politicians (7:54)
Haiku Henry (0:43)
Ennui (prelude) (1:29)
Transmogrification of Chili (ennui) (3:02)
Warm Papaya (3:58)
Shoko (0:43)
Waiting on Williams (8:24)
Hai kuneally (0:40)
Hot Cakes or Abbatoir? (2:39)
A Plethora Of Pinatas (1:04)
Assembly Language (4:30)
Sirenita The Greek (2:32)
Baby Blues (7:04)
Prince Poem (0:41)
The Mistakes vs. Dropped D (9:26)
Total Time: 73:28
THE MISTAKES – press release
What do you get when you take Italy's finest zydeco musicians and turn them loose on a program of Cyndi Lauper favorites? We have no idea, really, but we imagine it would sound nothing like THE MISTAKES, the semi-long-awaited collaboration between four of modern music's more intriguing practitioners: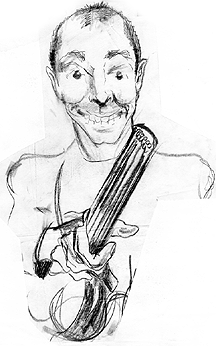 HENRY KAISER – experimental guitarist extraordinaire, he of the countless solo releases and stimulating collaborations with such innovators as Richard Thompson, Fred Frith, Derek Bailey, Herbie Hancock, Michael Stipe etc. etc. etc….most recently celebrated for his tremendously successful musical journeys to Madagascar and Norway with fellow traveler David Lindley, and for the sparkling albums which resulted ("A World Out Of Time" vols. 1 & 2 and "The Sweet Sunny North"). Kaiser's work on THE MISTAKES continues to stretch the boundaries of what "electric guitar" means.
MIKE KENEALLY – guitarist/keyboardist/vocalist and producer of THE MISTAKES, renowned for his work with Frank Zappa on such albums as "The Best Band You Never Heard In Your Life", "Make A Jazz Noise Here" and "Broadway The Hard Way" (he sang lead on the infamous "Elvis Has Just Left The Building"), star of the Grammy-winning "Zappa's Universe", member of the Dweezil/Ahmet Zappa band Z, and responsible for the acclaimed solo releases "hat." and "Boil That Dust Speck". On THE MISTAKES Keneally brings off a peculiarly seductive marriage of experimental and pop sensibilities, without compromising either approach.
PRAIRIE PRINCE – immensely well-respected drummer, a charter and present member of The Tubes (encompassing all their releases including the infamous "White Punks On Dope"), several Todd Rundgren tours and albums, and a great deal of session work including the late Tommy Bolin and XTC's much-lauded "Skylarking" album (featuring the controversial "Dear God"). Prince is also an in- demand creator of stunning graphic art (his work graces the cover and interior of the MISTAKES CD booklet). Even long-time Prairie Prince fans are likely to be stunned by his virtuosic playing on THE MISTAKES.
ANDY WEST – original bassist for The Dixie Dregs (later known as The Dregs) who left many a concert-goer's jaw slackened during their early tours. West played on all the classic Dregs albums, four of which were nominated for Grammies (including the legendary "Night Of The Living Dregs"). West has recorded and performed with Kaiser on many occasions and was a member of Kaiser's Crazy Backwards Alphabet band; he's also recorded with heralded guitarist Vinnie Moore. West aficionados who haven't heard enough of his singular bass playing as of late will get a hugely satisfying fix from THE MISTAKES.
The breadth of THE MISTAKES is suggested right from the top, with a majestic improvisation ("Put The Bass In The Middle Of My Head") cutting directly to a shiny, tightly arranged pop gem ("Aye- Aye Monster"). Gathering crazily divergent elements into a seamless and coherent whole, the album is a dream come true for all fans of adventurous rock. With this initial collaboration having proved such a success, Kaiser, Keneally, Prince and West now relish the opportunity to present their efforts to live audiences world-wide.
---
from the liner notes to THE MISTAKES:
A note from producer boy:

It started sometime in the late '80s when Henry and I picked up two unamplified electrics at Fender headquarters and jammed for a couple of minutes. We traded phone calls for a while, plotting some collaborations which we never pulled off. In January '94 I met Andy at NAMM. I was a Dregs fan as a teen; Andy professed admiration for "hat"; we both knew and enjoyed Henry (Andy'd worked with him a few years earlier in Crazy Backwards Alphabet). We felt that a collaboration would be worthwhile. Who to drum? Henry and I traded more phone calls. We agreed on one fairly famous guy; I contacted him, he professed interest at first and then stopped returning my calls. I can take a hint…around this time Prairie ran into Henry and said "I heard about the album. I wanna be on it" or words to that effect. Perfect (I had hung out with Prairie on a few occasions, backstage and in hotel rooms after Rundgren and Tubes gigs, so I knew him to be a swell guy as well as a remarkable drummer). Henry and Prairie did a gig in Japan with Bob Weir and Henry returned full of enthusiasm for Prairie's playing. Anticpation mounted; finally we all convened at Henry's for rehearsals over the last three days of 1994. Things fell into place readily. After a couple of days off we reconvened in San Diego for three days of basic tracks. From February to May, whenever scheduling allowed, I (or Henry and I, and one occasion [my daughter's first birthday] just Henry) would return to San Diego for overdubs (if there'd been time for overdubbing immediately after the basics were completed, the album could've been finished in a little over a week). But although I'm an inveterate tinkerer in the studio, the tapes didn't require much surgery, really…there was plenty of good stuff imprinted on them during the initial sessions (several of the tracks remain live-in-the-studio recordings). We hope you enjoy what transpired.

Keneally
---
lyrics to three of the songs on THE MISTAKES:
[expand]
CAREER POLITICIANS
Tie me to the mainmast
I'll hang until the dawn
I couldn't feel more strongly
It's time for moving on
Proper ways of doing things
Improper ways of not
I can feel my heart break
As I watch potential rot
Pardon the short notice
But one heeds the heart at cost
I couldn't face the morning
If I let these thoughts be lost
So tie me to the mainmast now
I'll hang until the dawn
We sail without direction
The rudder long since gone
A very special episode
Tonight we wave goodbye
I heard there'll be a spin-off
So dry that reddened eye
Tie me to the mini-van
It's time to hit the road
I feel my spirit changing now
A goodbye kiss for toad
TRANSMOGRIFICATION OF CHILI
Ennui
Ennui
It's not a maitre' d
It nails me to the bed and makes me wish that I was free
Ennui
Ennui
A steel jaw trappin' me
Don Van Vliet could come to call, I couldn't twitch a knee
Take my head to the market (make it eat a Scooter Pie)
Take my head to the market (make it eat a Scooter Pie)
Take my penis to the bus stop (throw it under the wheel under the wheel under the wheel)
Take my head to the market (make it eat a Scooter Pie)
Ennui
Ennui
Relentless rabid bee
Call me pathetic prat, I've not the strength to disagree
Ennui
Ennui
Breakfast time is 3:00
A piece of cheese, some Fritos and a can of beer or three
Take my head to the market (make it eat a Scooter Pie)
Take my head to the market (make it eat a Scooter Pie)
Take my penis to the bus stop (throw it under the wheel under the wheel under the wheel)
Take my head to the market (make it eat a Scooter Pie)
SIRENITA THE GREEK
Implore me, Sirenita!
Bestow upon me the jewel of your smile!
Wave your silken hand above my head,
and make it be years ago, 3000 miles!
Explore me, Sirenita!
Expound upon the myst'ry of your hips!
Prance unbidden to the pantry, love,
and fetch the low-fat chips!
Teach me a lesson, Sirenita!
Bind my wrists with endangered pelts!
Call my friends and tell them about last night!
Raise welts!
Discard me, Sirenita!
Unload my husk in the gutter with haste!
Make it be years ago, 3000 miles,
when teacher beat holy fuck out of me for sniffing paste!
---
Who Did What
I intentionally didn't provide much information in the liner notes of "The Mistakes" regarding who played what, and with whom the songs originated, in order to present a more unified group front. But in response to a number of requests, I'm letting the cat out – here's where you can get the dope on who did what when and how. You'll have to work out the "why" on your own.
–Mike Keneally
1."Put The Bass In The Middle Of My Head"
(music – The Mistakes; lyrics – Keneally)
This is the improvised middle section of take two of "The Mistakes vs. Dropped D" (the version that ends the album is take four). We didn't play the head particularly well, but this improv seemed very strong to me. Plus I've long wanted to begin an album with a bass solo. The piece is played live, the only overdubs are the MK vocal parts. The brief use of vocals is all that remains of an attempt to add lyrics to the piece – the lyrics were called "Testing". I banished them all from the mix with the minor exceptions of "put the bass etc." (which was not part of the original lyric, it was a request to Jeff in the control room), the small dog bit, and the cough (which was part of the original lyric). At 4:26 the piece is edited to a Synclavier sequence which Henry programmed at home, overdubbed upon by Prairie (first take – he'd never even heard the sequence before recording his part).
HK – guitar left, Synclavier
MK – guitar right, vocal
PP – drums
AW – bass
2. "Aye-Aye Monster"
(music – Kaiser, Keneally; lyrics – Keneally [inspired by a letter from Kaiser])
Henry asked me to keep the impetus behind this song's lyrics a secret, as several of the parties involved are highly litigious, dangerous, evil people. That's why I stuck in the middle section about lawyers, out of frustration that I couldn't just share the news of the injustices being inflicted on innocent people by using plain language, naming names etc. But, 'tho it's scant consolation, having to hide the facts probably resulted in a more universal piece of art. The basic chord structure and rhythmic inspiration came from Henry and his research of Salegy rhythms. The weird music (intro riff, middle section) were written by me. Andy admitted in his Bass Player interview that I took over on bass for a few lines in this song when it proved just too twisted to grasp quickly – the part where I play bass is during the weird middle section about litigiousness. This song was originally called "Aye-Aye Woman" until Henry became concerned about perceived misogyny and asked me to change it.
HK – rhythm guitar left, guitar effects at 2:40, maniac solo at 5:20
MK – vocals, Wurlitzer electric piano, rhythm guitar right (and a second rhythm guitar in the middle on the intro and at 2:40), acoustic guitar, mellow gtr solo at 2:03, sustainer gtr solo at 4:23, bass from 2:59 – 3:03 and 3:15 – 3:40
PP- drums
AW – bass
3. "Haiku Andy"
(music – Kaiser, Prince, Keneally; lyrics – West)
This started as an improvised duet by Henry on six-string bass and Prairie on drums. When I was doing overdubs I wrote the little guitar melody which starts and ends the piece, and learned the weird chordal thing that Henry improvised from 0:15 – 0:21 so I could play it in unison with him. The poem was written by Andy and recited by me with a cold. There's a set of lyrics called "TRANQUILLADO" which I was going to try to partially adapt to this music, but I decided to save them for the next album.
HK – six-string bass
MK – spoken word, guitar, synth at end
PP – drums
4. "Island Of Lost Luggage"
(music – Keneally; middle section an improv by The Mistakes)
This is one of three songs on the album which I demoed at home and sent tapes to the other guys for them to learn. While the basic musical material was composed by me, it was of course wildly transformed in the playing. The middle section is entirely improvised except for the stupid little melody I play at the beginning and end of it, and which I also play on the fade. Although I spent a good amount of time working on overdubs for this piece, I ended up not using any of them (largely at Henry's insistence) – in fact what you hear on the CD is a rough mix of the live basic track done the same day we recorded it.
HK – guitar left
MK – guitar right
PP – drums
AW – bass
5. "Nests"
(music – Kaiser, Prince, Keneally)
Like the final section of "Put The Bass", this is a Henry-at-home Synclavier sequence which Prairie did a first take overdub upon -in fact he recorded the drum part on this mere seconds after doing the one on "Put The Bass". Later I overdubbed the guitar part.
HK – Synclavier
MK – guitar
PP – drums
6a. "Career Politicians" – Intro (0:00 – 0:31)
(music – The Mistakes)
The opening section of this song was originally a separate piece called "Acid Reign", but I decided there were enough tiny songs on the album and started folding some of the teeny tunes into the larger ones. This intro section started life as an Andy – Prairie bass/drums improv. Henry did some overdubs, of which I kept only the Miles Davis-ish chords he plays from 0:17 – 0:31, and which I love a lot. The freaked sounding stuff on top of everything is me banging the keyboard of an M1 while changing patches constantly, and running that through an Eventide patch called "Acid Reign" which makes everything jump all over the place.
HK – guitar
MK – synth
PP – drums
AW – bass
6b. "Career Politicians" (0:31 – 7:54)
(music, lyrics – Keneally)
After a weird intro with Jeff saying "rolling" over two Keneally guitars (sustainer guitar on left, Strat on right), Prairie hits two tom-tom notes which lead into a Henry – Andy bass duet (Henry's six-string bass on the left, Andy's five-string on the right). At 1:10 a couple of Keneally guitars come in playing a riff which has been used at just about every BFD show for the last year. The lyrics were written on New Year's Eve 1994 about my frustration with a certain situation, one which, as luck would have it, has just been resolved as of February 1996. This is another of the songs which I demoed at home, but the guitar parts were so Keneally-esque that Henry opted not to learn any of the composed stuff. Andy and Prairie both play magnificently well on this outing. The bass line during Henry's main solo at 4:25 was composed by Andy.
HK – six-string bass in bass duet, ugly noises at 1:35, 2:08, 2:24 and 2:29, guitar solos from 2:45 – 3:07 and 4:25 – 5:38, left speaker oddness from 6:44 – 7:19 and 7:32 – 7:41
MK – all other guitars, Wurlitzer electric piano, synthesizer, vocal
PP – drums
AW – bass
7. "Haiku Henry"
(music – The Mistakes; lyrics – Kaiser)
Another tune which began as a Henry/Prairie improvised six-string bass/drum duet. In fact all four of the spoken word pieces were built on top of Henry/Prairie duets. Unlike the other three, Andy overdubbed an anchor bass to give it some foundation (Andy's bass is in the middle, Henry's on the left). I overdubbed a couple of guitars, and the firefly piano at 0:18 and 0:25, plus the synth at the end (all the spoken word pieces end with the same three chords played on synth, a little unifying device for ya there).
HK – six-string bass
MK – spoken word, guitars, Wurlitzer electric firefly piano, synth at end
PP – drums
AW – bass
8. "Ennui (prelude)"
(music – Keneally)
The third tune which I demoed at home. This is a combination of two mixes, one rough mix done with no effects, switching to a wetter, Hendrix-y mix. The edit point is at 0:53.
HK – double-tracked gtr effects at 1:06, 1:11 and 1:16, and a real nice swipe down the neck at 1:20
MK – lead and rhythm guitars
PP – drums
AW – bass
9. "Transmogrification of Chili (ennui)"
(music – West, Keneally, Kaiser; lyrics – Keneally)
The basis of the song is Andy's bass line. He presented it complete at rehearsal and I built the other harmonic material and vocals around it. The odd effects which begin at 1:20 are another Synclavier sequence which Henry programmed at home. The riff which I start playing at 1:36 was written by Henry.
HK – guitar left, guitar solo from 1:45 to end, Synclavier
MK – guitar right, vocals, synth, acoustic guitar
PP – drums
AW – bass
10. "Warm Papaya"
(music – The Mistakes)
I love this piece very much. It exists because Henry decided, for his ending solo on "Transmogrification of Chili" (and prior to our actually recording the track), to play a solo into one of his myriad digital devices, speed it up and flip it backwards. So while we recording the basic track of "Chili", when it came time for his solo, he just punched the start button on his effect unit and stood there. However, at the point when the rest of us had reached a mutual decision to stop playing, Henry's unit was still spewing his solo. This moment marks the beginning of what is now "Warm Papaya". One of my treasured memories of the sessions is of locking eyes with Henry at this moment – a shining moment of pure uncertainty. After a few seconds I started doodling along with the rogue guitar. After the device finally stopped, I continued, and Henry started to play along with me. Prairie and Andy joined in and for four minutes we improvised, with much sensitivity, until the tape ran out (which is why the piece ends so abruptly). The reason I love this piece so much is that it sounds very composed, there are so many glistening moments where Henry plays just the perfect thing to complement what I'm doing and vice versa, and the progression of the tune seems incredibly logical and plotted in advance, but it was all done on the fly. I don't know how much of what I consider to be the magic in this piece gets across to the listener, but I'm real glad it's on tape.
HK – guitar left
MK – guitar right
PP – drums
AW – bass
11. "Shoko"
(music – The Mistakes; lyrics – Keneally)
The first part is from the same Kaiser Synclavier sequence excerpted for the middle section of "Transmogrification of Chili". The whole piece is, I believe, over twenty minutes long, and is entitled "Shoko" (from which this little snippet got its name). The portion I used here crossfades into another short piece, originally entitled "Game The Game", which foreshadows the lyrics of "Assembly Language". This section was built atop another Andy/Prairie bass/drum improv.
HK – Synclavier on part one, squeal guitar in left speaker on part two
MK – vocals, grunge guitar in unison with grunge Wurlitzer
PP – drums
AW – bass
12. "Waiting On Williams"
(music – Keneally)
This turned out great. This song was a standard show-opener for my old San Diego band Drop Control (hence the dedication to Marty, Doug and Alan – the other DC band members – in the liner notes). What's happening at the very end of the track is the sound of RF interference afflicting my wah-wah pedal, which I hastily click off followed by Prairie's infectious laughter. Again, a wonderful performance from Andy and Prairie (using brushes) on this track.
HK – guitars left
MK – guitars right
PP – drums
AW – bass
The Four Tops – the ghost in my wah-wah pedal
13. "Hai kuneally"
(music – Kaiser, Keneally, Prince; lyrics – Keneally)
Another Henry/Prairie six-string bass/drum improv, heavily overdubbed upon by me. The music which plays from 0:13 to 0:27 was something I scribbled down in a hotel on the East Coast during a Z tour. The car driving away in this section is a recording Jeff Forrest made, it's the car of a very angry woman leaving after an argument in the suite next door to Double Time studios. Jeff was trying to record the argument but got the mic set up too late and only got the car onto DAT. Dave Clements (I misspelled his name in the booklet) is "Pops", Z's guitar tech, a legendary creature. Although this piece features the same three ending synth chords as the other spoken word pieces, the rhythm of the chords is broken up, and instead of ending the piece they're followed by a brief HK guitar coda.
HK – six-string bass, guitar at end
MK – spoken word, guitars, Wurlitzer, synth almost at end
PP – drums
The woman next door – car
14. "Hot Cakes or Abbatoir?"
(music – The Mistakes; lyrics – Keneally)
The power chords you hear in the first two seconds are all that remains on the master tape of a failed attempt at "Aye-Aye Monster"; I got used to hearing them on my rough mix cassette and decided to keep them in. (Henry called me one day to find out where these chords came from – it didn't even sound like us to him. "It sounds like a real rock band!") I love this piece, it's another improv a la "Warm Papaya" although it feels much different. There was some tape left at the end of a reel, so I just said "Eb" and had Jeff turn on the machine (you can just barely make out Andy saying "Eb?" in the left speaker right before Jeff says "you're rollin'"). I counted us in and we just played this thing. Later I overdubbed the vocals and a few guitars to harmonize with some of my ad-lib melodies from the basic track.
HK – guitar left
MK – guitar right, vocal, guitar harmony overdubs from 1:19 to 1:28 and 1:42 to 2:04
PP – drums
AW – bass
15. "A Plethora Of Pinatas"
(music – Kaiser)
This one is all Henry, recorded at home. It's an edit of a piece which is probably about three minutes long. I'd planned on calling it "As Manifestos Go" but Henry weighed in at the eleventh hour with this title, which is a better one, I think.
HK – guitar, Synclavier
16. "Assembly Language"
(music – West, Keneally, Kaiser; lyrics – Keneally)
This starts with stereo Henrys playing cool effects. Important to remember that Henry never uses guitar synthesizer – his magic is all done with effects. The Wurlitzer electric piano run through a SansAmp, combined with a guitar line Eventided down an octave, gives this song much of its grunge. Like "Chili", the basis of this song was an Andy West bass part. Henry wrote the chords to the chorus, and I hung the rest of the harmonic meat on Andy's framework.
HK – all guitars that don't sound like guitars, guitar solo at 2:18
MK – all guitars that sound like guitars, vocals, distorted Wurlitzer electric piano, clean el. piano solo at 2:45
PP – drums
AW – bass
17. "Sirenita the Greek"
(music – The Mistakes; lyrics – Keneally)
Based on the improv section of take one of "Island Of Lost Luggage" (the full-length "Luggage" heard earlier in the album is take two), which is why both selections share the same dopey little Keneally guitar melody heard at the beginning of this track (right after Prairie's grafted-on drum fill). Upon the live improv I overdubbed a synth organ patch, one little guitar part at 0:49, and the vocal of course. At 1:55 it edits to another of the pieces built from an Andy/Prairie improv. On this one, Henry overdubbed the high guitar on the left, I overdubbed a couple of very quiet sustainer guitar tracks on the right and a vocal transformed by the Eventide into a three-part chorale (the original name for this little ending snippet was "Even Tide Couldn't Get Out Those Stains").
HK – guitars left
MK – guitars right, guitar chords at 0:49, vocal, synthesizer
PP- drums
AW – bass
18. "Baby Blues"
(music – Jesse Keneally and The Mistakes; lyrics – Jesse Keneally)
Of course, you faithful MK Page buddies have known about this track for ages. You know all about the little picture frame with Jesse's voice inside it and how it got accidentally erased in Germany when Beller stuck it in the wrong coat pocket. You've even heard a little of this very song as a downloadable delight for a year now. Now, finally, here it is on CD for you to examine at length. The "click track" was me standing in front of a mic and pushing the "play" button on the little picture frame over and over again. Once Jesse's track was so completed, the band did one take of jamming along with her, and we were done. That's what you hear here.
HK – guitar left
MK – guitar right
PP – drums
AW – bass
Jesse Keneally – vocal
19. "Prince Poem"
(music – Kaiser, Keneally, Prince; lyrics – Prince)
I'd asked all the guys in the band to contribute a haiku for the album. Andy and I stuck to the grade-school rigid haiku formula (5 – 7 – 5); Henry, of course, researched the matter thoroughly and found that haiku could accomodate a number of different syllabic schemes, and submitted about ten different examples from which I chose the "wet fox" entry (which adheres to the unorthodox 3 – 4 – 7 syllable scheme); Prairie ignored my guidelines entirely and came up with this poem, having nothing whatsoever to do with haiku. Rather than stifle the lad's creativity, I went with it – besides it was fun to recite, even with a cold. Prairie said he was shocked the first time he listened to it – my voice sounded exactly like his to him. Again, this started life as a Henry/Prairie six-string bass/drum duet; I overdubbed the voice, the weird stereo harmony guitars during the spoken parts, and the harmonics in harmony in the middle section. The three synth chords at the end are finally, after four appearances, heard in unfettered clarity.
HK – six-string bass
MK – spoken word, guitars, synth at end
PP – drums
20. "The Mistakes vs Dropped D"
(music – Bob Adams; middle section an improv by The Mistakes)
A very straightforward performance piece is saved for last. This one is completely live in the studio. This is take four of the piece; take one was not saved, take two was partially used for "Put The Bass In The Middle Of My Head" and take three contains an improv which is the great lost track from this album. I was really sad not to have room for it on the CD – you'll hear it in some context in the future. Although I thank Bob Adams in the liner notes for writing a piece which is so much fun to play, I feel I must thank him again here. And so I now do: Thank you, Bob.
HK – guitar left
MK – guitar right
PP – drums
AW – bass
Notes and comments written in 1995.
[/expand]
---
Binge III (video)
Buckethead
MK involvement: Seen for under a minute playing "Transmogrification of Chili (ennui)"
Comments (ca.1997): I don't even know if this is available anymore, but guitarist from outer space Buckethead made available a series of videos called "Binge" at some point, and the third one in the series (which mostly consists of Buckethead running around in a cemetery, sad because his girlfriend broke up with him) contains a small sliver of live footage of The Mistakes' early 1996 gig at The Great American Music Hall in San Fransisco. In addition to the four regular Mistakes (Henry, Prairie, Andy and I), also appearing as guest Mistakes that night were vocalist Diana Mangano (she currently sings with Jefferson Starship) and the spectacularly odd, funny and talented Buckethead. The clip shown here consists of the very end of "Chili," which culminates in Bucket trashing his guitar (which he'd proudly displayed to me before the gig – he was going to use it for a recording session with Shawn Lane, and he eyed the axe with great tenderness and admiration) by accident while I watch with a certain detached fascination before I cue the sound guy to start the DAT for "Baby Blues." The scene changes before the DAT starts, though. Thanks to my friend Robert for letting me see this video.
---
Releases:
Immune Records / 1009 / 1995 (cd)
Third Venture / TVCD203 / 1996 (cd)
Exowax / EX2303d / 2009 (download)
---