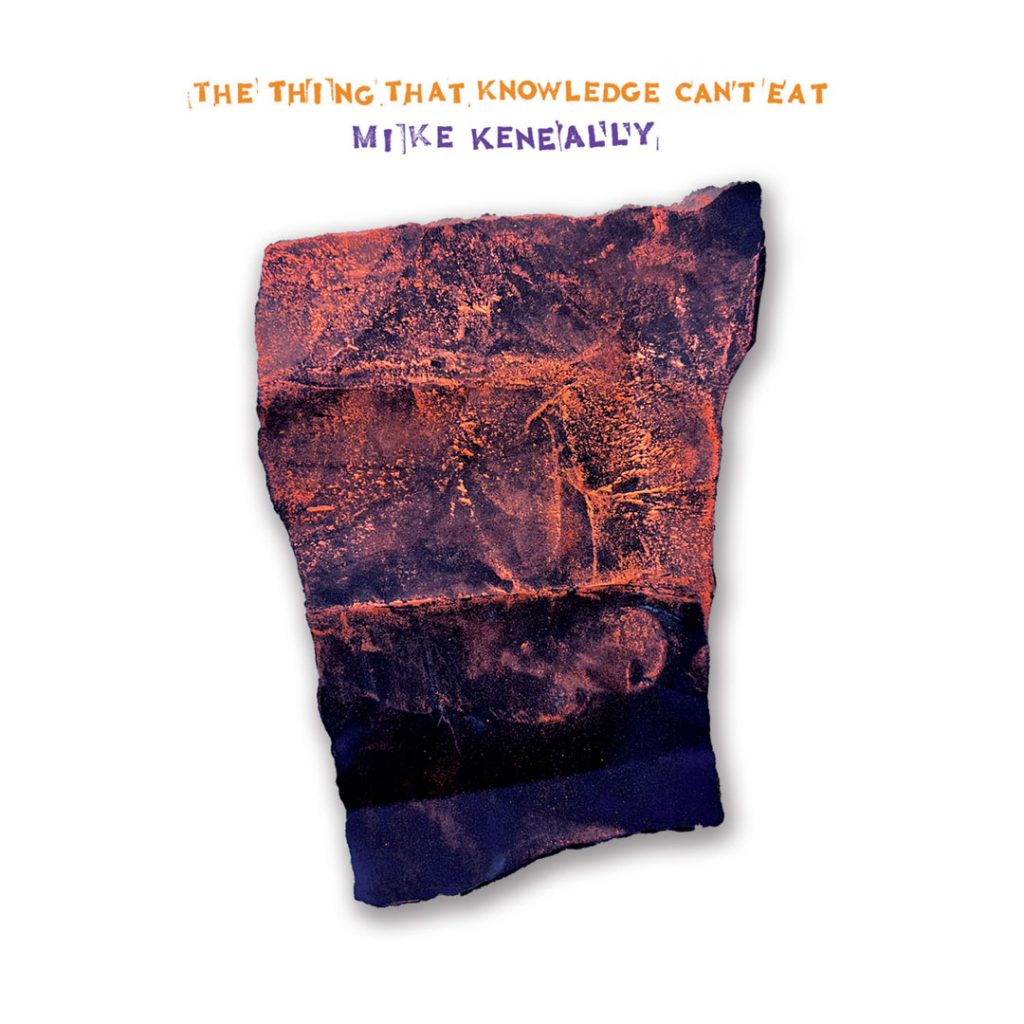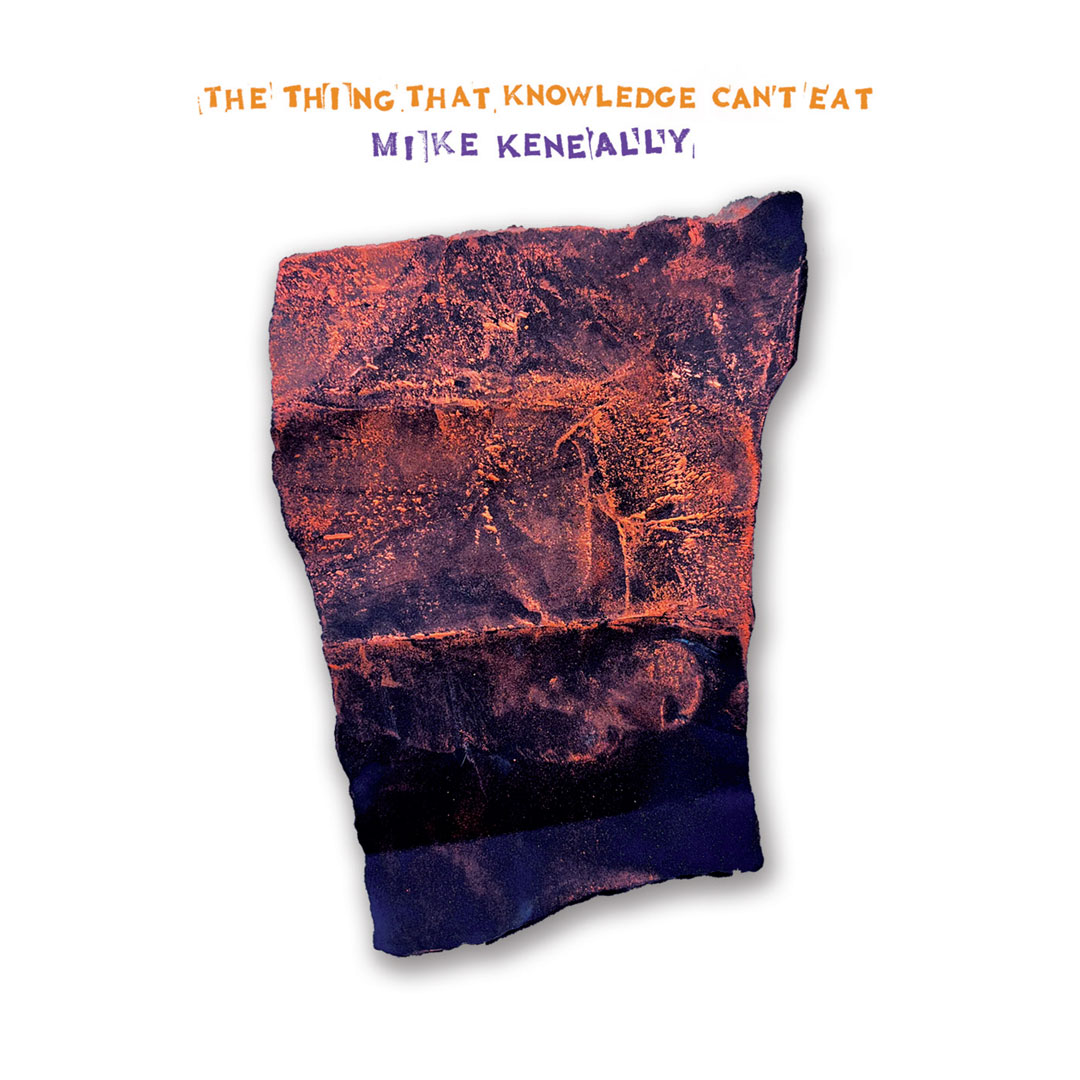 Released in 2023
The new album is called The Thing That Knowledge Can't Eat. It is a beautifully succinct album – nine songs, 42 minutes long, in the honorable, this-album-is-not-too-long tradition of Pet Sounds, Rubber Soul, and Kid A!
The "official" wide release date for the album (Amazon, streaming, download, etc.) is February 24, 2023.
Esteemed music writer George Varga writes in the San Diego Union-Tribune that the six-year gap between albums was "…well worth the extended wait. From the near-Broadway piano lilt of "Logos," the jaunty, multi-vocal opening cut, to the breathtaking intricacies of "The Carousel of Progress," which concludes the album with a finely calibrated art-rock flourish, "The Thing That Knowledge Can't Eat" is a multifaceted aural treat. It showcases Keneally's accomplished songwriting skills and dazzling musical prowess without him showing off."
Mike Keneally Store pre-order CDs should ship around the end of January, but you'll get your download right away when you pre-order.
The songs on the album are these:
1. Logos
2. Both Sides of the Street
3. Mercury in Second Grade
4. Celery
5. Spigot (Draw the Pirate)
6. Ack
7. Lana
8. Big Hit Song
9. The Carousel of Progress
Mike's worked up a short li'l audio sampler called The Thing That Knowledge Can't Suite. Wanna hear it?
Here are some words from Mike about each song, and the ultra-fine people who play on them:
"LOGOS – Sort of an alternate-reality show tune, based around piano and multiple vocals. In it I proclaim my desire to have a beautiful logo, and just wax enthusiastic about logos in general. It's meant to be ironic, even though I do appreciate a well-designed logo now and then. An interesting way to start an album, I hope. Me on all vocals and instruments.
BOTH SIDES OF THE STREET – I had a dream that I was onstage with Crosby, Stills, Nash and Young, and at one point everyone onstage was sitting on the floor, except for one of their roadies (whose body I was now occupying). I, as the roadie, played this whole song while facing away from the audience. As soon as the dream was finished, I got out of bed in the middle of the night and played the guitar part into my phone, and later in the day made the basic track for this recording. Me on all vocals and instruments, again. It sounds nothing like CSNY, by the way.
MERCURY IN SECOND GRADE – Acoustic tune bemoaning the lack of calm reason in much online discourse, seasoned by some Dad-style complaining about people spending all their time on their phones, as if I don't do the same exact thing. Me on MOST vocals and instruments, but also featuring a beautiful drum performance from Eric Slick (who has played with Dr. Dog and the Adrian Belew Band, and also recently played on "You All Over Me" from Taylor Swift's Fearless (Taylor's Version), thus greatly reducing the points of separation between me and Taylor Swift.
CELERY – This song, and the following one, were written to fulfill a need for some new material to record at an engineering workshop at Sweetwater Sound in Fort Wayne, Indiana. I recorded the basic tracks for both songs at this workshop, with Pete Griffin (Dethklok, Zappa Plays Zappa) on bass and Nick D'Virgilio (Spock's Beard, Genesis, Tears for Fears) on drums. "Celery" is a hard-rocking instrumental guitar number. I asked Steve Vai if he would record a couple of solos for it, and he came through beautifully.
Check out the first video from the new album, for the song "Celery" (featuring Steve Vai). This video is excerpted from Mikko Keinonen's short film, "The Complete Adventures of the Unrelated Sound Guy" coming soon!
SPIGOT (DRAW THE PIRATE) – This is the second song from the Sweetwater sessions, with Pete and Nick on bass and drums. Lyrically, this grew out of my love and admiration for the work of Charles Schulz. The phrase "Draw the pirate" refers to old advertisements for the Art Instruction School of Minneapolis, to which Schulz sent artwork as a young boy for assessment, and then later went on to work there to support himself as his burgeoning cartoonist career began to, um, burgeon. Reference to Schulz' admiration of painter Andrew Wyeth is also made. Somehow these references are folded into a love song, encouraging the recipient of the narrator's affections to come out of their shell and experience the world.
ACK – In 2003 I did an orchestra-and-guitar suite called The Universe Will Provide with the Metropole Orkest in the Netherlands. Later on I reunited with the Metropole to do a second performance of the piece in Haarlem, but radio producer/Creative Catalyst Co de Kloet had an additional, fiendish plan for me: to write, on the spot, two brand new pieces and teach them to a smaller subset of the Metropole (which we dubbed the "Minipole"). "Ack" is the second of those two pieces (the first was "Chee" from Scambot 1), and it features the following wonderful musicians, in addition to myself on guitar: Peter Tiehuis on second guitar (he plays a great solo at 1:13), Bart van Lier on trombone, Herman van Haaren on violin, Hans Vroomans on acoustic and electric piano, Ruud Breuls on trumpets, Leo Jansen on tenor saxophone, Marc Scholten on alto saxophone, Murk Jiskoot on percussion, Bryan Beller on bass, and Arno van Nieuwenhuizen on drums.
LANA – Originally called "Prawna," this song is about a meditating shrimp. Decided against the punny title and changed the shrimp's, and the song's, name. The main riff popped out while I was recording something else with the Framus guitar, with low open-C tuning, that Devin Townsend gave me in 2019. I didn't record to a click because I was just experimenting, but then I edited together my favorite chunks into a "structure" and that became the "song." I then sent that stitched-together "form" to Ted Morton, drummer from the band Pet Shark, and he had to navigate all my insane, click-less tempo shifts, which he did heroically. The other instruments and the vocals were by me. Probably the densest track on the album, and the one that gave me the most trouble mixing. I could probably have gone on tinkering with this tune for the rest of my life, but I got tired of keeping you waiting on the album.
BIG HIT SONG – "Big Hit Song" is a multi-movement piece about a person named Billy who discovers a big hit song, and decides to try and change the world with it. The middle part actually consists of the very song itself that Billy finds, and it's the weirdest part of the song (my song, I mean), so good luck Billy! Instruments and vocals by me, except for the marvelous drumming which is by Tobias Ralph (24-7 Spyz, Adrian Belew Band), who is a serious force amongst drummers and I sure am glad to have him on this tune.
THE CAROUSEL OF PROGRESS – This is the proggy seven-and-a-half-minute epic of the album, and lemme tell you, I'm so honored to have Malcolm Mortimore playing drums on it, he who played on Gentle Giant's Three Friends album (a HUGE album for me), and who is currently drumming with veterans Colosseum and just killing it. This is another multi-movement piece, and traverses a fair bit of stylistic ground. Many, many hours were spent on this one and I hope you find that it was worthwhile time spent. Lyrically, it's about managing to survive 2020 (which is when I wrote it). All vocals and instruments by me, except for Malcolm's drumming (which I still have a hard time believing is true but, yep, he's really on this song.)
(At one point towards the end of "The Carousel of Progress," the word "Yielbongura" is sung as a background vocal texture. The word is found in the following quote by author/workshop leader Malidoma Patrice Somé: "In the culture of my people, the Dagara, we have no word for the supernatural. The closest we come to this concept is Yielbongura, 'the thing that knowledge can't eat.' This word suggests that the life and power of certain things depend upon their resistance to the kind of categorizing knowledge that human beings apply to everything. In Western reality, there is a clear split between the spiritual and the material, between religious life and secular life. This concept is alien to the Dagara. For us, as for many indigenous cultures, the supernatural is part of our everyday lives. " [Quote from Of Water and the Spirit: Ritual, Magic, and Initiation in the Life of an African Shaman.]
I found this quote inspiring, and now you know where the album title came from. (After the album art was completed, I learned that Somé passed away in December 2021. If I'd realized this sooner, I would have dedicated this song to him in the liner notes, so I very humbly dedicate it to him here, instead. Gratitude and respect sent out to Malidoma Patrice Somé – thank you for the inspiration.)
Thank you for reading all of this! I'm incredibly excited to finally be delivering some new solo music to you."
---
Releases:
Exowax / EX-2416 / 2023 (cd and download)
---