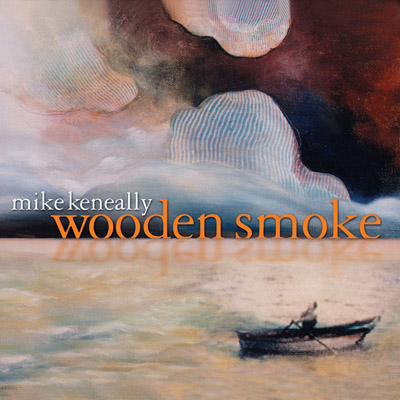 Wooden Smoke
Mike Keneally
Released 2001
Hello
Bags
Haugseth
2001
New England
Nanny-Ass Crow
Dee 'n' A
Boom
5 Legs
Father's Day
Pantomime
Machupicchu
Wooden Smoke
Thanksgiving
"When critics use the word 'mature' to describe somebody's music, it's usually code for 'old and boring.' Well, I'm wresting the word back to apply it in its proper sense to Mike Keneally's Wooden Smoke: this album is strong, gentle and wise. How many people do you know who can make a CD sound hand-carved? Beautiful."

— Andy Partridge of XTC
"…Masterful playing, superb arrangements and wonderful sounds. To be honest, this is the best headphone-to-oblivion album since Floyd's 'Wish You Were Here'. (5/5)"

–Simon Bradley, Guitarist
Mike's Comments (2013):
So this is the album where I asked myself politely to calm down, and I wrote a set of music on my living room floor with sock feet and pajamas on. This was the end of the year 2000. Things were slowly stabilizing after a lengthy personal period of chaos and like many hippies before me, I turned to the acoustic guitar as a means of soul balmership.
I set a general rule/intentional limitation for this set of material: with a couple of exceptions, notably "Dee 'n' A," the songs on this record would contain only two or three sections each. Instead of careening down endless musical avenues and building a really oddly-shaped song-structure in the process, as I'm wont to do, I wanted to keep these pieces really concise. It was kind of Zen-inspired I suppose, and also I was meditating, and working on getting more out of simpler things.
Each musical gesture in Wooden Smoke to be really clean and decisive structurally, but the way we treated the material in the studio put a lot of pastel blur and mysterious colors into the sound. My friends, multi-instrumentalist Marcelo Radulovich and percussionist Nathan Hubbard, both mainstays of the San Diego experimental music scene, were a huge help with the sonic atmospheres they created. The electronic backdrops on songs like "5 Legs" and "Thanksgiving" were created by Marcelo on guitar, microphone and outboard effects. Nathan brought a large self-built percussion device called a squareframe which looked like a mattress frame with torture devices attached to it (it's the fifth instrument down on this page of self-built Nathan Hubbard percussion instruments) and produced all manner of unearthly sounds with it.
And so we drove to Bonjoo, Michigan with a flask of high-octane beetlejuice and drove that mother to the…
No, we did nothing of the sort; this is a quiet album. We worked hard to create clear and open textures that buzzed with atmosphere and detail, but all based on these simple music structures and the sound of my acoustic guitars decorated by hazy, mysterious atmospherics.
I had incredible, relaxed fun creating different sounds; rustling the leaves of a fake tree in the studio to get a jungle ambience, or snapping a heavy-duty anvil case latch and applying massive reverb to it for a dramatic percussion effect on "Machupicchu." (That was sort of inspired by the huge explosions on the choruses of Simon and Garfunkel's "The Boxer." )
"2001" was maybe my best pure pop song ever, and it was completely in thrall to the early 70s piano-based pop-rock I loved so much; songs that Carl Wilson wrote for The Beach Boys, along with various tracks by Todd Rundgren, Steely Dan and Stevie Wonder all played a part in the birth of this song. I thought double drums would be a neat texture for this one and got both Nathan Hubbard and Chris G. to play drums on this song (as well as "Father's Day") – I think we recorded Chris' drums at a different tape speed if I remember correctly, to change the pitch on them and make them sound distinct from Nathan's – it made a good sound.
Brilliant guitarist Matt Resnicoff was spending time with me and Sarah during the sessions and came to the studio during the whole recording process, making so many good suggestions that he gradually became associate producer of the album. It's because of Matt that I doubled the guitar solo in "Thanksgiving" on electric piano, and – more alarmingly for me – doubled the guitar solo in "Machupicchu" on kalimba, which is impossible to do note for note, but I did what I could. Matt also pushed me to play the intro of "Dee 'n' A" (which is kind of a fingertwister) as fast as I could humanly play it. Sarah disapproved of that choice and probably still does. I'm happy to have a record of it being played cleanly at that tempo!
A huge component of this album was the act of deeply connecting with acoustic guitar; not just using it as a sound of contrast or orchestrational element but making it the central sound of the music, and taking time to work on keeping as still as possible while playing, so there wouldn't be much clothing or body noise against the guitar, and trying to minimize finger squeak (I still let a few go through if I particularly enjoyed the pitch of the squeak). This way we could turn the microphones way up, I could play very delicately and we would get a really nice acoustic guitar sound. Mike Harris did magnificent work on the sound of the acoustics on this record and has received a lot of highly justified praise for it. (This was also the only album I've ever done which was entirely recorded at Signature Sound in San Diego.)
The lyrics on the album are either fables, very direct personal expressions, or cosmically weird, Zen riddles, replete with invented words and utterly strange sentence structure. The lyrics of "5 Legs" can't be explained rationally at all, but they came screaming into my head while I was looking at myself in the mirror (think I'd just brushed my teeth maybe?) and I heard those words, in the same freakazoid voice I used on the record: "SING tight! MOVE tight! Apple oh-core to the movement of steam!" etc. I DON'T UNDERSTAND IT EITHER, trust me.
One song, "Haugseth," was a long-overdue response to a contest connected to the Tar Tapes Volume Two CD release – the winner of the contest, Peter Haugseth, had won an original song written just for for him, to be delivered to him on CD. Years went by and I never managed to write and record the song, and I felt really bad about that and finally, something like three years late, I started writing the music to this song, which originally featured lyrics like "ooohhh, Peter Haugseth, I'm sorry that I took so long to write you your special song that you won, da da la daaa" etc. But I found that the music I was writing was conveying the message a lot better than the lyrics, and decided to keep it instrumental. I contacted Peter and told him I'd finally finished his song but I really liked it and kind of hoped I could put it on my next album instead of just giving it to only him, please? He couldn't have been cooler about it and I named the song simply "Haugseth" in honor of his patience, coolness and generosity.
The album was released. I felt a true and profound sense of satisfaction. The album felt of its time (the song "2001" seemed to acknowledge that) and I thought it might somehow portend an upcoming period of true peace in my life, and that, by golly, with a little luck perhaps that peace might extend to other parts of the world. I thought my little album might really do some good. The weather was lovely, it was summer 2001. September was approaching.
Awww, but why be a gloomy gus, right? Wooden Smoke was the first time I ever made an album-sized album – 14 songs, 47 minutes – and the combination of that, along with the sounds we made, did seem to add up to something kind of special. I have no idea what my best albums are, really, but I know for sure this is one of them.
Something I wrote about the album in 2001:
Hi! I'm thinking that it's time to put out a new album. It's called "Wooden Smoke," and it's not much like anything I've done before. It's primarily acoustic. At the end of 2000 I started playing a whole lot of acoustic guitar, sitting on the floor in the living room. The sound of the instrument and the physical sensation of playing it formed the bedrock of "Wooden Smoke" (thanks again to Taylor Guitars for making instruments which pull so much music out of a person). It's not your typical "acoustic album" though – there's a lot of interesting sounds happening, generated in some fairly unorthodox ways, which will make more sense to discuss after you've heard the stuff. There are elaborate vocal arrangements on a number of songs, but the album is about half instrumental. The music is a little hard to describe. It's mysterious, but intimate and inviting. It has a kind of plot, but you can't figure it out. It feels really warm, and I love listening to it – I hope you enjoy it too.
We worked again at Signature Sound, with the brilliant Mike Harris behind the board. Recording began in October 2000 and continued on and off until about a week ago, interrupted frequently by various touring activities and such, and also by blink 182 blocking out Signature for two months solid in the middle of it all. It's a solo Keneally album rather than a BFD release, although it is graced by the appearances of several band members (Rick, Tricia and Bryan) on a few of the songs. I played most of the instruments myself but multi-instrumentalist Marcelo Radulovich and percussionist Nathan Hubbard, members of the Trummerflora Collective, were crucial collaborators on several of the songs. Also making important contributions were saxophonist Lee Elderton, drummer Chris G and Matt Resnicoff, who sang on three tracks and provided intense amounts of creative assistance in the studio.
Here's the songs:
Hello
Bags
Haugseth
2001
New England
Nanny-Ass Crow
Dee 'n' A
Boom
5 Legs
Father's Day
Pantomime
Machupicchu
Wooden Smoke
Thanksgiving
For those of you who've had trouble digesting my standard 70-minute-plus CDs in the past, this is the Keneally album for you. I went into this project wanting to make a 50-minute CD, and I've done it! Are you proud of me? I'm thrilled to have finally made an album which feels complete, but which you don't have to struggle to work into your schedule. I got to the point with this one.
We're making available a special edition of the album featuring a second disc called "Wooden Smoke Asleep." It contains more songs, improvs, experimental pieces, doodad-y excerpts and alternate versions from the "Wooden Smoke" sessions. The alternate versions, sometimes barely more than solo acoustic guitar, are stripped-down and elemental in comparison to the main album versions – a lot like what the songs sounded like when I wrote them on my living room floor. "Asleep" has also got some startlingly wonderful sax soloing from Lee Elderton and nice dual acoustic improvs from Rick Musallam and I. All these elements are woven together in stream-of-consciousness fashion resulting in a very different listening experience from "Wooden Smoke" itself. I hope you'll check it out. The first 2000 of the special editions will be signed and numbered by me.
Thanks for reading all of this, and I sure hope you enjoy the albums. Take care!! Smile! Feed that cat!
Your buddy,
Mike K.
---
Wooden Smoke Lyrics
Bags
Long ago
There was a tree
Lived right next to the bird and me
Me and the bird blew bubbles one day
They went to the tree and that's where
they liked to stay
Our back was turned and bad men came
I'm sorry but the tree was never the same
Have the bubbles found a higher ground?
Wishing sound, I heard a howlin'
Barbara asked everybody
If you were a tree what would you be
If I was a tree I guess I'd be
The one with the bubbles who lived
near the bird and me
Now Jimmy's built a house for me
It sits on top of this here tree
And the Pentagon is strengthening the
Air Force's jurisdiction over space
Naaaaaaaaaaaaaaaaaaa
O, bubbles, bubbles everywhere!
Is there a bubble I can call my own?
A tree that I call home?
Buttons. Birds! Smoke.
2001
Sail reclaim All ashore
Fairest man to hold the land Forevermore
Silent ground Wave goodbye
Cast your soul to the sky
Then they came moving lines
Wish and wait and celebrate and pour the wine
And shed a tear for the day
They last saw you away
Shine, proud traveler shine (hey, roller motion)
Roar o'er the rollicking Rhine
(inside traveling it feels so fine)
What in heaven ever compared
The marlin or the millionaire
Shine, proud traveler shine (Tooree L.A. ummm)
Time so remorseless, unkind
(oh no, garbage and crime all the time-ah)
Kissing kings sing oola oolay
Shivering and tenderly praising, pray
Stormy seas Cold and grave
Enggo Pah the lord and king, a wooden slave
Remind us all Remind us when
We can head for home again
Ride dark stallion ride! (Hey holy potion)
Find a faithful moment inside!
(campfire riverside starshine)
Alleviate the pain in your soul
Obliterate the pain in your soul
Cry, chameleon cry! (Tooree L.A. um)
Arms firmly drawn to your side!
(oh no, darkness and no more time-ah)
Calculate the time of the tide
Receive the song from gods of the dark blue night
ooooh
Nanny-Ass Crow
Nanny-ass crow
You won't, uh, see Comet Crepe e-tonight
Middle, I t'row (beer not)
's id — ill, I throw, with muscular baby
5 Legs
Sing tight! Move tight!
Apple oh-core to the movement of steam
Apple oh-core to the moment I DREAM
Sing tight! Move tight!
Pebbles unto rock unto a sole
and growing beachfront!
Apple oh-core to the apple oh-core to the
I wove!
Father's Day
Sir Holler!
Bump into a dream and remind yourself
of what the prophets have seen.
Man, a simple class of rodent flotsam has screamed
and I suppose the sun has rose on the last known
instance of hot-air dreams.
Sir Holler!
Wide open wide
As the lightning tumbles crazily across the sky
And another 200 miles roll by
And I suppose the story's closed on that fated
rose which prompt explodes in my soul.
Throw yourself to anyplace
and watch the humans race
You long for the days of your youth, obsessively.
Small, remembered objects, events and sensations
from your youth assume tremendous significance.
Sir Holler!
Sail under the bridge
Like you did when you and your brother were kids
Look back on yourself and see what you did
And forgive that pour soul
You knew not what you did
But soon you'll know
in the warmest depths of your soul.
Machupicchu
Sink back deep into the velvet of knowing
Feel it, deal with it, it's okay and you're fine
Wooden Smoke
Long ago there was a tree
Also a squirrel, and this bee
They both decided they would see
If they could gain knowledge from the tree
So day and night the squirrel and bee
Worked hard at learning from the tree
With help from their Neil Young CDs
And five Coltrane biographies
They'd get tired and need to rest
That doesn't mean they'd failed their test
It meant that they could give their best
When that was what was needed
From what I see the squirrel and bee
Are totally happy, and they're free
I saw the squirrel give the bee a backrub
They were smiling
Everyone has things they do
They think they maybe shouldn't do
Don't let your big brain stifle you
They might be precisely what you're s'posed to do
You can't fix everything just you
Join forces with the ones who love you so
© 2001 Spen Music, BMI. All rights reserved.
---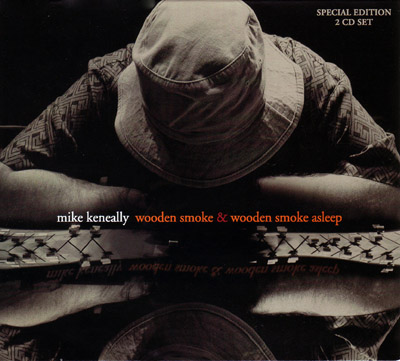 Wooden Smoke Asleep
Mike Keneally
Mike's Comments (2013):
Scott Chatfield goin' hog-wild with the multi-tracks! Let's take the rhythm track from "2001" and the vocals from "Boom" and see what happens! WHOA!! What the frig! That's goin' on the bonus disc!
Wooden Smoke Asleep (before it had a name) was initially just meant as a second disc for the special edition of the main album, a place to put extra music from the sessions and some stripped-down acoustic guitar only mixes of some of the main album's songs.
But as Scott ran the Pro Tools and I sat behind him and we parried suggestions back and forth, the disc definitely started to take on a distinct personality from the main course. Obviously cut from the same cloth, even using a lot of the same design but towards a very different effect.
It turned into a really intriguing little curio, with the pieces arranged into two lengthy suites and featuring some improvised guitar and piano work that I was very pleased with. "Kane St." (named after the street my family lived on in 1973) was a very nice guitar duet improv with Rick Musallam. "Me, Innate" was a really nice piano and percussion improv recorded with Nathan Hubbard (hence the punning title). "David Lynch's Curtains" was a suitably eerie opener (revisited in dream-like fashion late in the running order) featuring sax work from Lee Elderton both keening and keen.
It came together very quickly, and I know that some people prefer Wooden Smoke Asleep to Wooden Smoke. Good on 'em too! I'm glad this obscure little album has its adherents, it is a really nifty one.
Wooden Smoke Asleep is no longer in print on CD, but we would be very happy to sell you a high-quality download of it, yes indeedy.
Brief promo hype, 2001, beautifully written by Scott (one of his best I think):
Originally part of the sold-out Wooden Smoke Special Edition, Wooden Smoke Asleep is a somnambulistic, abstract reflection of the original acoustically-based Wooden Smoke album, comprised of remixes, reinterpretations and additional music. The premise is that after you've listened to Wooden Smoke, you fall into a deep slumber. Wooden Smoke Asleep comes to you in a dream.
Wooden Smoke Asleep's songs:
I. THE CANYON
David Lynch's Curtains
Me, Innate
4 Legs
The Canyon
Kane St.
Testing
Paloma
Boom 2001
II. BOB SLEEP
Hi
Haunted Wind
The Velvet of Knowing
The Haunted Wind of Commanche
David Lynch's Curtains – Sleepwalk With Me
Thanks
Nanny-Ass Coda
And, So
Mumbledy Bag
Manhattan
---
Releases:
Exowax / EX2405 / 2001 (cd)
Exowax / EX2405-1 / 2001 (cd SE w/ Wooden Smoke Asleep)
Exowax / EX2405-1d / 2009 (download – Wooden Smoke Asleep)
---