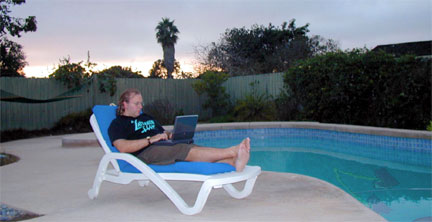 Mike types to you
San Diego 3:17 PM Monday July 14

Here!
(brass): fan-tana-naaa
Not too long after the last one
(brass): pannn-nnaaaa
It's another MIKE TYPES TO YOU
featuring Mike Keneally as Mike Keneally
And now
(brass): bant bant bant
Mike.
Wow. Thanks, I'm not used to such an introduction. Kind of takes the breath away. Pheww! OK, I can go on, I can go on. Thank you. You sons of bitches are fantastic.
Now I'll address some of the questions I received while I was writing the last Mike Types To You:
Tim from Alpha City, Omaha asks:
<you've been spending a lot of time in Europe recently. How about some narrative on how you see the music scene over there compared to the U.S.? Job opportunities, cultural differences, club scene, etc. You're obviously not afraid to travel (yay!), and I doubt that you are participating in the current "culture of fear," as Michael Moore might put it, by keeping one eye on the Fear-O-meter published by the current administration. Any words of wisdom for other Americans traveling abroad?>
Boyk, that's a lot to chew on! I've been trying to keep my head kind of empty lately (survival tactic) so I may not have intelligent responses to these incitements, but lemme try, lemme try:
a) some narrative on how I see the music scene in Europe compared to the U.S.;
My view of the music scene was, of course, narrow, limited mainly to my own itinerary. But then much the same can be said of my view of the US music scene. I'm not trawling the clubs to check out what's going on, not that I'm not interested, just that there's not much time. But what vibe I was able to absorb about the European music scene indicated pretty much what it's always indicated to me, which is a wonderful feeling of adventurousness and encouragement.
b) my "words of wisdom" for other Americans travelling abroad;
Well, the US is certainly not the most loved country in the world at the moment, but I guess my advice to any Americans who are about to travel is the same as it is to any Americans, or anyone at all, who is about to sit completely still - try to be observant, and try to be humble. As far as fear goes, I think that while the US has indeed been conditioned to feel fear, many people are adjusting their ideas about what they really ought to be afraid of.
This now from Jan of Oma City, Alphaho:
< Wonderful concerts in Amsterdam, thank you.>
You're very welcome!
<Some things I`d like to know.-New album: release date?>
The new album, which I now think is going to be called
Dog
, will hopefully be released either by the end of this year or very early the next. The album is still not completed (although I was just listening to a rough mix of "Bober" and it sounds pretty close to finished [I think I'll redo the vocal]; there are six or seven songs nearly completed for it and I'm still writing material for it (last week I began work on "This Tastes Like A Hotel" and "Oho!").
It's been tough to finish the album because everyone in the band has been doing a million different things. But we're gearing up for the big push to finish the album (as soon as some studio time frees up - both the main studios I want to use in San Diego have been crazy booked with stuff whenever I've been in town). Since we're on the fast track toward the recording and release of "The Universe Will Provide" as well (I'll be returning to Holland in September to record the piece in the studio with the Metropole Orchestra) I'm kind of hoping for a scenario wherein both
Dog
and
The Universe Will Provide
will be released around the same time.
More from Jan:
<I suspect most of us were not in Sweden. Comments?>
Covered to not utterly comprehensive degree in
the last Mike Types To You
, so let me see if I can dredge up further memories:
The building where the Umeå Chamber Festival is a fabulous construction, with several wonderful venues inside which were each designed to be responsive and appropriate to different styles of music. While I was there I performed with Kristjan Järviand an orchestra which I believe were dubbed the Black Box Orchestra, and which I think was populated primarily by musicians from Umeå and/or nearby; I was there so briefly and had so much to get done that I never was able to confirm these things, but the orchestra was a marvel and were incredibly generous and welcoming to this interloper w/Stratocaster. I'll try to recall the entirety of the setlist for this performance:
It began with a performance of "None Of The Above," with the string quartet (or was it the quintet arrangement? Couldn't see them) set up on the floor in front of the stage. This performance took place in the large concert venue, with many rows of fixed seating and an enormous stage. For the second piece, Mats, Morgan and myself did a trio performance of "Black Page," both numbers 1 and 2. A little rusty (we didn't have much time to practice it after we were asked to play it during the rehearsal period) but fun to play it with the guys again. Then "III Revised" by the string players on the floor, then a chamber-ish subset of the orchestra, conducted by Kristjan Järvi, and I took over the stage and played "Revised Music for Low-Budget Orchestra." At this point Kristjan, the orchestra and I stayed onstage for the rest of the show and played (don't remember the song order) "Dirty Love," "Be-Bop Tango" (which I had never played before - sheesh, it's hard), "Teenage Prostitute" (featuring male and female operatic leads who dressed the part and chased each other around the stage, violently grabbing and throwing each other around), "Muffin Man" (a really cool arrangement! Duke's piano part from the intro was orchestrated to superb effect, and Napoleon Murphy Brock graced us with his rendition of the spoken part - probably the audience's favorite part of the show) and several other pieces.
(Rich Pike from NoneRadio just called. Rich says hello (to me; he didn't know you were here). I'm going up to LA tonight to do a NoneRadio show with Rich and Reeves Gabrels. It may well be playing when you read this, but if it isn't, something else fantastic will be. Go to
NoneRadio.com
!)
Also I guested with Ed Palermo's big band, in that same venue earlier that evening, to play a guitar solo on "The Evil Prince" which ended up turning into a spritied dramatic dance between Napoleon and myself. Very goth. I love any opportunity to play with Napoleon, and I want to send good wishes to Ed, who's made the decision to stop his regular performance of new Zappa arrangements in New York City. His take on the tunes is unique and fresh and it's too bad they won't be heard more often, but I wish him all the best, and I know he'll have a good time getting his own music happening.
More stuff happened at Umeå, but it's time for another topic, and you can read more about Umeå in the last Mike Types.
<Any possibilities for extra gigs in Europe while recording/mixing in Amsterdam?>
We're checking it out, but it may not happen. I don't want to get too distracted from the task of recording the orchestra piece and I may prefer to concentrate solely on that for the whole trip, but if gig offers come up that are interesting, I know me, I'll probably end up doing it.
<-how nice it was to meet a stunned Norwegian fan backstage before the
TUWP
concert :-)>
It is always a terrific experience to meet a stunned Norwegian no matter the circumstances. And I thank you for the great energy before the gig!
Doug from Palozabel, Minconsin opines:
<My clock is weird so I don't know if it's been a couple hours yet. And though I assume you'll most certainly talk about it anyway, make sure to bring up Beller's album.>
Beller's album! It's called
View
and it's great. I think he'll probably get it released before I get the Keneally Band album released, the bastard. I think I can safely say that every expectation any of you may have about this album may sound, how good it's going to be, etc., is going to be blown clear out of the water when you hear it. It's really, really good, unique and intricate and ballsy and beautifully performed and totally
Beller
. It fully rocks and you'll dig it.
<Alternately, you could discuss your feelings about cat juggling.>
I just finished reading "Shopgirl" and it was really nice.
Brian from Clangy, Vitupero sends these words:
<You asked for a list of MTTY topics on NoneRadio. Hopefully I'm not too late getting my suggestions in.>
Clearly not too late, and go to
NoneRadio.com
!
<Here goes...
1) Discussion of albums in the can or in progress. Off the top of my head:
Mistakes Live, Palace of Love, Yo Miles
.>
All three of those releases are in the hands of Henry Kaiser, who is continuously involved in many simultaneous projects so sometimes it takes a while to make things ready for release. I sympathize utterly! All the stuff you mentioned above is really good, some or all of it is gleamingly ready for release I believe, and we have talked about Exowax being involved with some of this stuff but we're suffering from the same problems as Henry in terms of too much stuff happening and not enough time to deal with all of it. But I've heard all of these albums in varying degrees of completion, and it's all quality stuff.
< Other HK/MK projects >
I don't know if there's anything else in the can, and while we haven't specifically discussed future collaborations, I'm ready willing and able whenever the time comes.
< JiP updates - I saw
Not Altogether Unexpectedly
artwork on a website, but haven't found a place to purchase it>
Brad Teaby, the mastermind of Jip, actually has several albums worth of unreleased material that I've worked on with him, and hopefully this material will see release soon. Anyone who enjoyed the first Jip album
Glee
would be delighted by this stuff. Brad's a unique singer/songwriter/guitarist and I love producing and playing on his music. Very trippy/hypnotic/textural and it feels great to listen to. And Joe Travers is drumming like a maniac on most of it (other unreleased Jip/Keneally recordings feature Kofi Baker on drums and he sounds fantastic also). And Paul "Jerry" Denton is one of the melodic and intuitive rock bassists I've heard.
< Heppy the Shep >
Hee! Wow, that's some obscure stuff. Heppy the Shep was the same band as Jip, but playing completely improvised material. Much of the improvisationsal stuff we recorded ended up getting excerpted, vocals and other overdubs added and turned into Jip songs.
< Tar Tapes 3 >
I'll admit that this hasn't been much on my mind. Sometimes I think I might abandon the idea of the Tar Tapes series (which are excerpts from various tapes) and just issue the original cassette album configurations, and release the other Drop Control material which would be on
Tar Tapes Vol. 3
as a separate release under another title. Again, these are interesting ideas to consider, and there's a lot of other interesting stuff we still think about all the time (like Radio Keneally - remember that? We still want to have a spot on the
internet where there's constantly streaming Keneally music, featuring loads of
unreleased stuff) but it takes a long time to make it all happen.
< 2) Discography updates - I think I sent you a list while ago, and I know there's even more >
That's an annoyingly perfect example of not having time to get things done - I probably don't even have your list anymore, and the discography on the website continues to languish in ever more embarrassing disrepair. I WANT to do it, believe me.
Could you send your list again please?
<3) Teasers on the new MKB record - song titles, special guests (or will it just be the four of you), what'll be on the SE disc (if there is one).>
Here's the song titles so far (did I cover this in the last MTTY? Sorry if I did):
Bober
Louie
This Tastes Like A Hotel
Never Ever Wrong
Oho!
Li'l
Raining Sound
Pride Is A Sin
Feeling Strangely
Moved My Key
Physics
Everything except "Hotel" and "Oho!" is on tape in some form, but several may be re-recorded from scratch. When an album takes this long to finish, my relationship to the material and my ideas about what sort of album I want to put together change a lot. As with
Sluggo!
which was put together over a similarly lengthy period of time, I'm grateful for the time it's giving me to think about things, but trying to retain good perspective and not overwork anything. Anything I want to re-do at this point is just because I know something can be performed with more confidence and style. And I want the guitar playing on this album in particular to be of a level that I haven't necessarily achieved in the studio yet. So, we take our time, and it'll be a good album.
There will be an SE version; the details of the second disc are still being worked on. So for now, at least, let's let it remain a secret.
<And how are things?>
I'm grateful and I'm trying to seize opportunities. Things are mighty weird and mighty good.
And so we've come to the end of the questions, and I must get on the road to LA for tonight's NoneRadio, and so I ask that you direct your attention to the coming attractions on the front page - vital info about my appearances next week at Zappanale and elsewhere, and about
upcoming MKB gigs
at Victor's and The Baked Potato - and I bid you all a most hearty and glorious!
Me